Probe Into Jackson Memorial Costs Raises 'Criminal Aspects'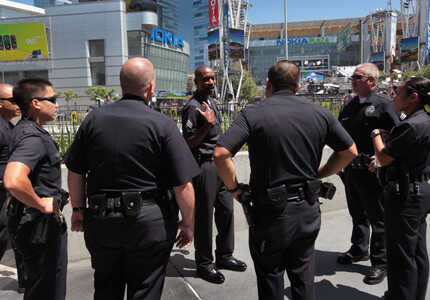 The Los Angeles City Council is meeting today to discuss the price tag for Michael Jackson's July 7 memorial service. The LA Times reported this morning that the Council is expected to order an audit of city expenses, with special attention on the $48,826 spent on 3,500 lunches for police officers on security detail.
Now we've just seen a wire report that the Council has gone into closed session "after City Attorney Carmen Trutanich revealed that his office's investigation into the use of taxpayer resources during the Michael Jackson memorial tribute had 'taken an unanticipated turn that raises both civil and criminal aspects.' "
Trutanich reportedly declined to go into detail during the public session, though he did say he had talked to an attorney for the Staples Center, where the memorial was held.
The wire report says Trutanich declined to go into detail during the public session, but said "in regards to the civil litigation, rest assured that before I file any lawsuit to recoup taxpayers' costs, I will confer with you (the City Council) in closed session, to brief you and obtain your concurrence on any decision that is made."
LA Mayor Antonio Villaraigosa has said the city will cover what looks to be $1.4 million in police and other expenses for the memorial. That was before the LA Times reported that a concert promoter got an offer of $50 million for 1,200 hours of rehearsal footage for a planned 50-gig run by Jackson in London. Trutanich, the city attorney, has been looking into how the city came to agree to pay for security services.