Mystery Solved? Web Readers May Have ID'd Man In Seattle WIth Missing Memory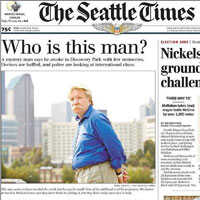 The front page of today's Seattle Times asks quite a question:
"Who Is This Man?"
And the story tells quite a tale.
It's about a man who can't remember much about who he is or how he got to a place ironically called "Discovery Park":
The blond-haired man with the walrus mustache wandered out of Seattle's Discovery Park three weeks ago, with pressed khakis, an expensive dress shirt, a blue blazer and $600 hidden in his sock. He was uninjured -- but said he was confused, lost and frightened.
This much is clear: He is fluent in English, French and German. He possesses a professorial knowledge of European cultural history. He seems to have traveled the world. And he says he is a widower.
But he said he doesn't know who he is or when he was born. Or how he got here and why. Or whether he even wants to know.
With the lightning speed of the Internet, SeattleTimes.com readers may have already solved the mystery.
At 8:40 a.m. ET, "David Akast, Shanghai, China," left this comment on the Times' website:
This is Edward Lightheart. He lived in Xi'an, China in 2005.
That led other readers to post links to webpages about Edward Lighthart (yes, the spelling is slightly different than in Akast's comment). Here's one of those webpages.
And the readers' comments have led the Times to add this editor's note to its story:
Within hours of posting this story online, a reader identified Jon Doe as Edward Lighthart, an English teacher he knew in China. The reader, David Akast, said Lighthart taught at English schools in China and "had an incredible knowledge of European cultural history."
Photos of Mr. Lighthart on the Internet suggest that it is him.
But it doesn't answer the key question of how he ended up in Seattle.
The Times is on the way to contact Mr. Lighthart in person to discuss the news.
Update at 3:30 p.m. ET. All Things Considered co-host Robert Siegel just spoke with Ian Ith, one of the Seattle Times' reporters on the "mystery man" story. The John Doe he first met, Ith says, is now convinced intellectually that he is in fact Edward Lighthart. But, Ith says, "there is no connection emotionally" between the man and that name. And he has nothing physical -- no ID cards, no posessions other than the clothes he was wearing when he first asked a bus driver for help about three weeks ago; nothing -- to help ease his mind. Here's Ith talking about the odd situation this man is in:
There will be more from Robert's interview with Ith on ATC later today. Click here to find an NPR station near you.
Update at 12:50 p.m. ET. It's "definitely me," man says.
The Times now reports that:
Friends have e-mailed photographs of Lighthart, and he acknowledges that the man in the photographs is he.
"The name isn't ringing a bell, but the image is definitely me," said the man who had been at Swedish Medical Center as Jon Doe since he walked out of the park.