U Of Illinois Trustees Chair Resigns Amid Scandal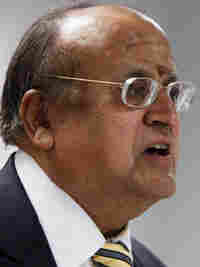 The scandal at University of Illinois, one of the nation's top research universities, involving well-connected applicants being jumped ahead of others, claimed its highest-profile official yet, with the chairman of the board of trustees announcing he was stepping down.
Niranjan Shah, chairman and chief executive of Globetrotters Engineering Corp., had come under scrutiny for his own personal interventions on behalf of family members and others. In one case, the university created a $115,000 a year post for his future son-in-law after Shah lobbied for it.
In another, as the Chicago Tribune reports, Shah pressed the university to admit an Indian student whose eligibility was questioned by other university officials.
As the ChiTrib reports:
In March 2008, Shah pushed for a student to be admitted to the rigorous MBA program, even though Chancellor Richard Herman warned that school officials "had serious concerns about his ability to handle the academics" and the student's GPA was "below what is admissible." Admissions officers were never able to confirm whether the student had attended an accredited college.
"May be [sic] he can be on probation during first year," Shah suggested.
E-mails show that when Shah pressed for a decision before he visited the student's family in India, the business school relented and offered the applicant a spot.
NPR's Cheryl Corley had the following report on "All Things Considered."
In the statement in which he announced his resignation, Shah seemed to admit that the rules had changed in Illinois after the pay-to-play scandal involving the state's former governor, Rod Blagojevich.
Another ChiTrib excerpt:
"When I became a Trustee...many of the stakeholders in the University of Illinois system—Trustees, university administrators and staff, legislators and others—operated under a set of rules and norms that seemed appropriate at the time," Shah said in a prepared statement. "Today, I recognize that those rules are changing with the times, and I think that change is a very good thing."
Not just that, Shah appeared to throw his secretary under the bus, blaming his assistant for the tone of aggressive lobbying in his communications with other school officials.
One last snippet from the ChiTrib:
While Shah acknowledged he "advocated" for student applicants, he testified before the state commission that many of his most aggressive requests were written by a secretary at his Chicago-based engineering firm who embellished his intentions.