Rep. Joe Wilson Sorry For Calling Obama Liar During Congress' Joint Session
Rep. Joe Wilson, the South Carolina Republican responsible for the "shout heard 'round the world" at President Barack Obama's speech to a joint session of Congress Wednesday evening, has apologized for what many are calling his boorish behavior.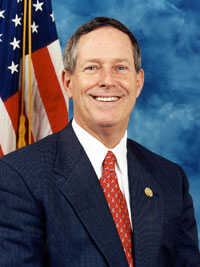 Politico.com has his statement:
"This evening I let my emotions get the best of me when listening to the President's remarks regarding the coverage of illegal immigrants in the health care bill. While I disagree with the President's statement, my comments were inappropriate and regrettable. I extend sincere apologies to the President for this lack of civility."
That was fast. While Wilson has gotten kudos on some conservative blogs for shouting at the president "You lie" when Obama said that illegal immigrants wouldn't be covered under his health-care overhaul proposal, he was also criticized and by Republicans too.
Sen. John McCain, the Arizona Republican who was his party's presidential nominee last year, called Wilson's actions "totally disrespectful" on CNN's Larry King Show and advised him to apologize.
But liberals are already using the congressman's dubious behavior for fund-raising purposes. And it's the kind of moment supporters of the president's health-care proposal could use in TV and web ads to diminish their opponents as hysterical crazies.