NASA Launches Ares I-X Rocket : The Two-Way Ares I-X launches.
NASA Launches Ares I-X Rocket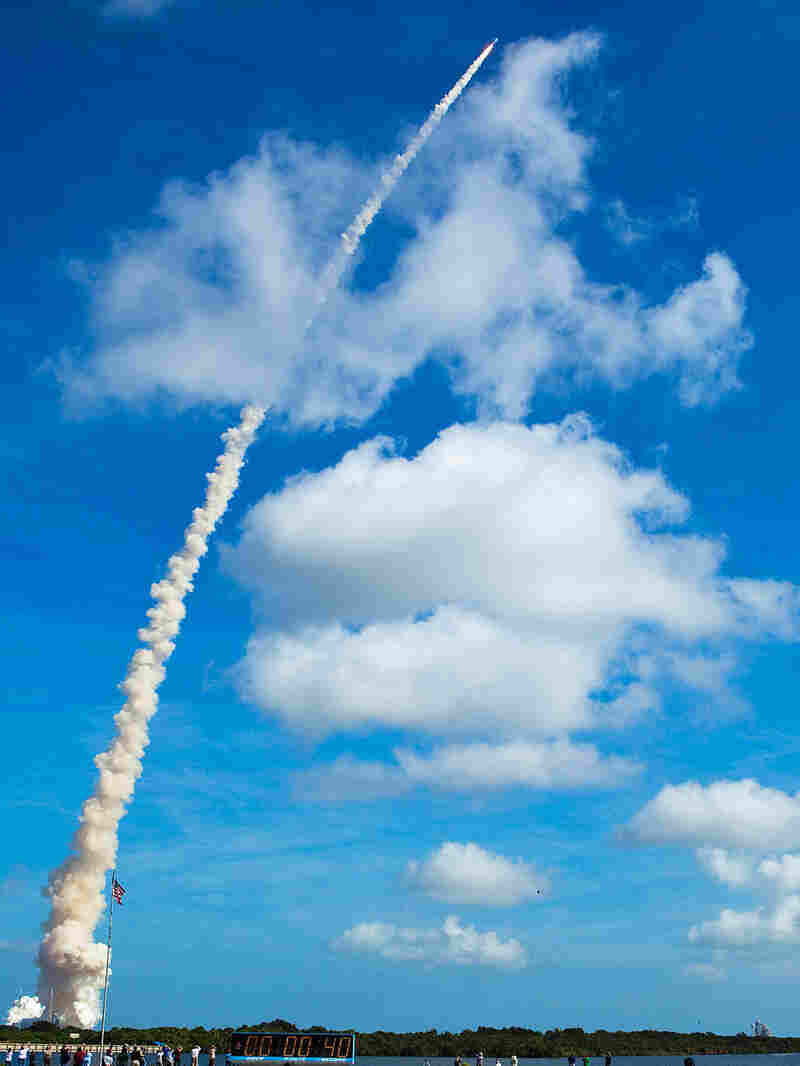 Matt Stroshane/Getty Images
An experimental version of the rocket that NASA hopes will replace the space shuttle as the nation's way of getting astronauts into space just launched from the Kennedy Space Center in Florida.
The Ares I-X, at 327 feet the tallest rocket in the world, is supposed to fly for two minutes.
We'll pass along more as the story develops.
Update at 11:55 a.m. ET. Here's what it sounded like as NASA's George Diller counted down and the rocket launched:
Update at 11:38 a.m. ET: As it's apparently supposed to, the rocket's "upper stage" has landed in the water, NASA says. "Now it's recovery time," NASA just said on its webcast.
"You all did frick'n fantastic," a voice on the NASA webcast just told others at the Space Center.
Update at 11:36 a.m. ET: "Not too much to report," they just said on NASA's webcast. The Ares I-X is thought to be floating down under its parachute, heading for a splashdown in the Atlantic.
Update at 11:32 a.m. ET: At least on TV, everything looked good.
NASA writes that:
At about the T+2 minute point in the flight, the upper stage simulator and first stage will separate at approximately 130,000 feet over the Atlantic Ocean. The unpowered simulator will splash down in the ocean. The first stage will be fired for a controlled ocean landing with parachutes that will allow recovery by one of NASA's booster recovery ships, while the other ship tracks the upper stage.