Live-blogging The Fort Hood Shootings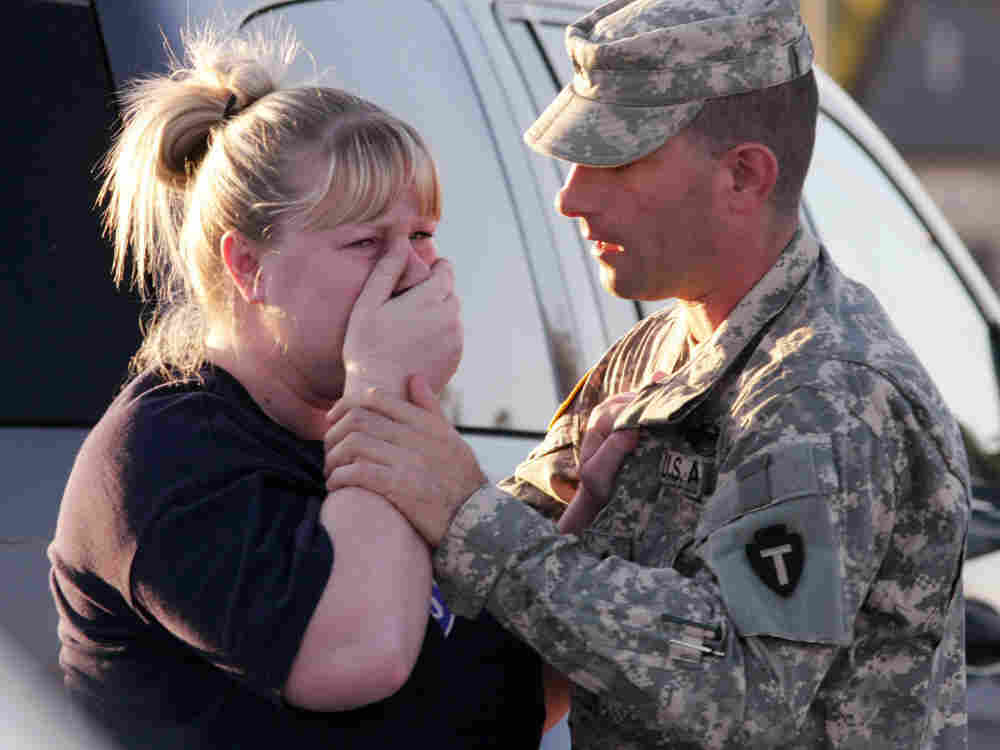 We've used this post to follow the tragic news from Fort Hood.
As of 9:45 p.m. ET, here's where things stand:
-- At least 12 people were killed today during a shooting rampage on the post.
-- Another 31 or so people were wounded.
-- The suspect, Army Maj. Nidal Malik Hasan was not killed at the scene, as was first reported by authorities there. He was shot and is now hospitalized.
-- Army officials say this does not seem to have been an act of terrorism. Hasan, according to Texas Republican Sen. Kay Bailey Hutchison, was upset about his upcoming deployment to Iraq.
-- Hasan is a psychiatrist. A cousin of his told news media outlets tonight that Hasan felt he had been harassed by others in the Army because he is a Muslim.
You can read through this post to see how the story developed (scroll down and read "up" through the post if you want to go chronologically). The Two-Way will pick up the story again in the morning.
Meanwhile, NPR.org will be staying on the story through the night. Our colleague Kevin Whitelaw is updating his report here.
Update at 9:28 p.m. ET: Lt. Gen. Bob Cone just wrapped up his news conference at Fort Hood. After revealing that major change in the story -- that the suspect is still alive -- Cone spoke of the way soldiers reacted to the carnage.
"God bless these soldiers," he said. "People tell stories of soldiers ripping their uniforms apart" to use as bandages.
Update at 9:24 p.m. ET: "His death is not imminent," Lt. Gen. Bob Cone, now briefing reporters at Fort Hood, just said of the suspect -- Maj. Nidal Malik Hasan. The suspect is not speaking with investigators, though, Cone said. Hasan is hospitalized after being shot.
Update at 9:22 p.m. ET: "I couldn't rule that out," Lt. Gen. Cone just said, but it does not appear the shootings -- which happened in two adjacent locations -- had anything to do with terrorism.
Update at 9:20 p.m. ET: The suspect was wounded by fire from a woman at the scene, Lt. Gen. Cone says. He allegedly had two semi-automatic weapons.
Update at 9:15 p.m. ET: MAJOR CHANGES IN THE STORY:
The suspect is not dead, Lt. Gen. Bob Cone just told reporters at Fort Hood.
And, he just put the death toll at 12.
He also just confirmed the name of the supect: Maj. Nidal Malik Hasan. There was only one shooter, Cone said.
Update at 9:07 p.m. ET: Fox News Channel is interviewing a man identified as retired Col. Terry Lee, who says he worked with the suspect at Fort Hood. According to Lee, Nidal Malik Hasan had grown increasingly upset in recent years about the wars and U.S. policy in Iraq and Afghanistan.
Update at 9 p.m. ET. Still no news conference at Fort Hood, but the cable news networks keep saying it will happen any minute.
Update at 8:43 p.m. ET. The Associated Press is reporting that:
Federal law enforcement officials say the suspected Fort Hood, Texas, shooter had come to their attention at least six months ago because of Internet postings that discussed suicide bombings and other threats.
The officials say the postings appeared to have been made by Maj. Nidal Malik Hasan, who was killed during the shooting incident that left least 11 others dead and 31 wounded. The officials say they are still trying to confirm that he was the author. They say an official investigation was not opened.
Update at 8:40 p.m. ET: CNN says it's been told that those who were killed by the gunman were 10 soldiers and one civilian contractor.
Update at 8:33 p.m. ET: Many folks are going to the Army's Facebook fan page to express their thoughts.
Update at 8:20 p.m. ET: While a Fort Hood spokesman said on CNN a few minutes ago that investigators do think there was a second shooter, NPR's Wade Goodwyn has been told by public information officer Steve Moore at the post that it is not thought there was a second shooter. Hopefully, the news conference (which was supposed to have begun 8 minutes ago) will clear up that contradiction.
Update at 8:18 p.m. ET: The Fort Hood webpage says these phone numbers have been set up as hotlines for families seeking information about their loved ones at the post:
866-836-2751 or 254-288-7570
Update at 8:08 p.m. ET: On CNN a moment ago, a Fort Hood spokesman just said a second person "of interest" has been detained, and that a news conference is expected to begin in about five minutes. (Earlier, two soldiers who had been detained were released.) It is thought that there were two shooters, the spokesman said.
Update at 8 p.m. ET: Fort Hood is no longer under a "lockdown," meaning that personnel can begin to move around again.
And the Associated Press reports this about the suspected shooter (who Army officials say died at the scene):
Military officials say Nidal Malik Hasan, 39, was a psychiatrist at Walter Reed Army Medical Center for six years before being transferred to the Texas base in July. The officials, who had access to Hasan's military record, said he received a poor performance evaluation while at Walter Reed. The officials spoke on condition of anonymity because military records are confidential.
The Virginia-born soldier was single with no children. He graduated from Virginia Tech University, where he was a member of the ROTC and earned a bachelor's degree in biochemistry in 1997. He received his medical degree from the military's Uniformed Services University of the Health Sciences in Bethesda, Md., in 2001. At Walter Reed, he did his internship, residency and a fellowship.
Update at 7:55 p.m. ET. The Associated Press has posted this Department of Defense video from the scene:
Update at 7:50 p.m. ET. A prominent Washington-based Muslim civil rights organization, the Council on American-Islamic Relations (CAIR) has released a statement that reads, in part:
"We condemn this cowardly attack in the strongest terms possible and ask that the perpetrators be punished to the full extent of the law. No religious or political ideology could ever justify or excuse such wanton and indiscriminate violence. The attack was particularly heinous in that it targeted the all-volunteer army that protects our nation. American Muslims stand with our fellow citizens in offering both prayers for the victims and sincere condolences to the families of those killed or injured."
Update at 7:40 p.m. ET: A man identified by Fox News Channel as Nader Hasan, a cousin of the alleged gunman, just told Fox that Nidal Malik Hasan "had no violent tendencies," but felt he had been harassed while in the military. His cousin had retained a military lawyer to fight harassment, Nader Hasan told Fox.
Update at 7:28 p.m. ET. The other two people taken into custody may have been released. The Associated Press just moved this "alert":
Congressman's office: 2 soldiers taken into custody in Fort Hood shootings have been released.
Update at 7:15 p.m. ET: This newsletter from the Uniformed Services University of the Health Sciences, has a photo of Nidal Hasan, thought to have been the shooter, on its third page.
Update at 7:12 p.m. ET. In a statement just released by the Pentagon, Defense Secretary Robert Gates says:
"I am deeply saddened by the tragic events today at Fort Hood. My thoughts and prayers are with the families of the fallen, the wounded, and all those touched by this incident. There is little we can say at this point to alleviate the pain or answer the many questions this event raises, but I can pledge that the Department of Defense will do everything in its power to help the Fort Hood community get through these difficult times."
Update at 7:05 p.m. ET: Former president George W. Bush, who has visited the post often and has a ranch only about 30 miles away in Crawford, just released this statement:
"I was saddened to learn of the tragic incident at Fort Hood. Laura and I are keeping the victims and their families in our thoughts and prayers during this difficult time."
Update at 6:30 pm Republican Sen. Kay Bailey Hutchison of Texas has said on CNN that Maj. Nidal Malik Hasan who has been identified as the alleged shooter was scheduled to be deployed to Iraq and was "upset about that."
Update at 6:24 pm First the Senate, then the House, observed moments of silence this afternoon-evening to honor the dead and wounded in the Fort Hood shootings.
Update at 6:18 pm -- A statement from Vice President Joe Biden:
"Jill and I join the President and Michelle in expressing our sympathies to the families of the brave soldiers who fell today. We are all praying for those who were wounded and hoping for their full and speedy recovery. Our thoughts and prayers are also with the entire Fort Hood community as they deal with this senseless tragedy."
Update at 6:16 pm -- The Army Times has the following information about the alleged shooter:
A Pentagon source identified the shooter as Army Maj. Nidal Malik Hasan; the source said Hasan was a psychiatrist recently reassigned from Walter Reed Army Medical Center in Washington, D.C., to work with soldiers at Darnall Army Medical Center on Fort Hood. He was killed at the scene.
Update at 5:41 pm -- Twitter has this feed on the Fort Hood shootings.
Update at 5:36 pm -- Authorities have identified the shooter in the Soldiers Readiness Center at Fort Hood Army Base as Maj. Malik Nadal Hasan, 39 or 40 years old, according to reports on MSNBC, CNN and ABC News.
Update at 5:21 pm -- President Barack Obama visited the Interior Department to speak to leaders of Native American tribal nations this afternoon. He dropped his previously planned remarks and talked mostly about the Fort Hood tragedy:
"... I had planned to make some broader remarks about the challenges that lay ahead for native Americans as well as collaboration with our administration. But as some of you might have heard, there has been a tragic shooting at the Fort Hood Army base in Texas. We don't yet know all the details at this moment. We will share them as we get them. What we do know is that a number of American soldiers have been killed and even more have been wounded in a horrific outburst of violence.
"My immediate thought is with the wounded and the families of the fallen. These are men and women who have made the selfless and courageous decision to risk and at times give their lives to protect the rest of us on a daily basis. It's difficult enough when we lose these brave Americans overseas. It is horrifying that they should come under fire at an Army base on American soil.
"I've spoken with Secretary Gates, the chairman of the joint chiefs of staff, Adm. Mike Mullin and we continue to receive a constant stream of updates as new information comes in. We are working with the Pentagon, the FBI and the Department of Homeland Security all to ensure that Ft. Hood is secure. And we will continue to support the community with the full resources of the government.
"In the meantime I would ask all Americans to keep the men and women of Ft. Hood in your thoughts and prayers. We will make sure that we get answers to every single question about this horrible incident. I want all of you to know that as commander in chief that there's no greater honor but also no greater responsibility for me than to make sure the extraordinary men and women in uniform are properly cared for and that their safety and security when they're at home is provided for. So we are going to stay on this. I hope all of you recognize the scope of this tragedy and keep everybody in their thoughts and prayers."
Update at 4:54 pm Lt. Gen Bob Cone at a press conference at a gate of Fort Hood said that 12 are dead and 31 are injured. He said one of the shooters was killed and two suspects are in custody. He described the dead alleged shooter and those in custody as soldiers.
Authorities recovered two handguns from the soldier who allegedly opened fire, Cone said.
The base remains in lockdown but officials are now deciding whether to lift the lockdown. Among the dead was a civilian police officer. The Army has requested help from the FBI to see if they have any information on the soldiers who are suspected of the shooting. All the shootings took place at the soldier readiness center.
Update at 4:48 pm -- NPR.org has a story on the Fort Hood shootings that will be frequently updated.
Update at 4:45 pm -- President Barack Obama is expected to make a statement about the Fort Hood shootings at the beginning of a speech he was previously scheduled to give at the Interior Department to Native American tribal leaders.
Update at 4:29 p.m. -- Sen. Kay Bailey Hutchison was interviewed on CNN and said that a general she spoke with at Fort Hood said the shooters were wearing military uniforms and that authorities are trying to determine if the one shooter in custody is actually in the military or impersonating a servicemember.
Also, CNN reporter Barbara Starr said Pentagon officials are saying the number of dead is now nine with 30 wounded.
Update at 4:22 pm. -- Lt. Gen. Russel Honore who was once posted to Fort Hood and became widely known as commander of Joint Task Force Katrina, told CNN that in addition to being on lockdown, those on Fort Hood were told to turn off heating and A/C systems. According to Ken Robinson who trained at Fort Hood tells CNN that turning off the HVACs is part of a standard protocol to prevent chemical or biological agents from being introduced into buildings. He said that's an indication of the uncertainty authorities are dealing with right now.
Update 4:08 pm -- NPR's Dina Temple-Raston has this information from the FBI:
"We don't know if they were soldiers or civilians. Apparently this was linked to a graduation event. FBI agents on the scene now."
Update 4:00 pm -- CNN just interviewed Sgt. Major Jamie Posten at Fort Hood. He said police were still searching for a shooter and that authorities are trying to develop a description of the suspect being sought. Posten confirmed what we heard earlier, that one shooter was apprehended. He added that a shooter shot into the soldier processing center.
Update: 3:51 pm --NPR's Mary Louise Kelly has these additional details --
Army Lieutenant Colonel Christopher Garver said the following:
While the situation is still developing, I can confirm a shooting at 2:30 Eastern, 1:30 local.
It took place in or near Howze Theatre, which is next door to the Soldiers Readiness Processing Center.
We've seen the reports on at least 7 dead, 12 injured -- but CANNOT confirm that yet.
We expect a statement shortly from Fort Hood.
The installation is on lockdown.
The police are on the scene.
We've also seen the reports of multiple shooters, but CANNOT confirm that at this point.
3:30 p.m. ET: There are reports of a shooting attack at Fort Hood in Killeen, Texas. Seven are dead, 12 wounded. One gunman is reported in custody. There is a search for another gunman.
MSNBC is reporting that officials have surrounded a PX. They are also reporting that the suspect has a high-powered sniper rifle.
The post's website says it is on lock down. We'll report more details as we get them.