Nidal Hasan Had Light Patient Workload Versus Other Docs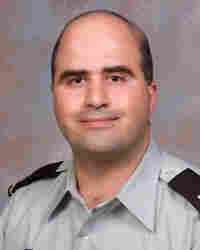 A theory that emerged after Maj. Nidal Hasan allegedly shot to death 13 people at Ft Hood Army Base in Texas and wounded scores of other, was that he might have heard so much from his soldier-patients at Walter Reed Army Medical Center in Washington, D.C. of the horrors of war that, in reaction, he might have suffered a sort of sympathetic post traumatic stress disorder.
The trouble with that theory, however, is that it turns out he likely wasn't exposed to as many of those stories as was initially thought.
As NPR's Daniel Zwerdling reported for the network's newscast:
Military psychiatrists who worked with Hasan say they do know one striking fact: Hasan treated only a fraction as many soldiers who'd been to war as most of the other psychiatrists in the Army.
For most of the past two years, Hasan was on a research fellowship at the military's medical school, in Bethesda, Md. And sources there and at Walter Reed say Hasan treated almost no patients during most of that time.
Meanwhile, psychiatrists at most army medical centers were overwhelmed by troubled soldiers. Sources say Hasan did start treating patients again in late Spring of this year and then he kept treating patients at Fort Hood.
One psychiatrist told me, "Most of us have seen patients with problems like PTSD and traumatic brain injury all day, every day, for years. We haven't shot anybody."