Kim Peek, The Real 'Rain Man,' Has Died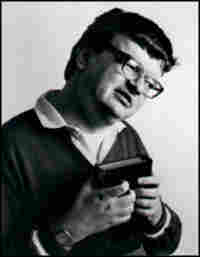 Kim Peek has died.
You may not recognize his name, but there's a good chance you remember Rain Man, the 1988 movie starring Dustin Hoffman and Tom Cruise.
Hoffman's character, a mega-savant, was based on Peek.
As NPR's Howard Berkes reports from Salt Lake City, where the 58-year-old Peek lived:
He "had severe mental handicaps but reportedly remembered everything he read and heard. Peek had difficulty with simple things like turning on lights or dressing himself, but his memory was legendary. Give him a date and he'd describe its events. Name a place and he'd name the zip code. He reportedly memorized every word in 9,000 books."
Howard adds that Rain Man "made Peek so famous he traveled the globe, displaying his talents as the real 'Rain Man.' NASA studied him because his memory got better as he aged. And in the end, his memory was sharp but his heart gave out. Kim Peek's father says his son died this weekend of a massive heart attack at his suburban Salt Lake City home."
The Salt Lake Tribune says Peek passed away Saturday.
"He had a depth and breadth of knowledge and a memory that was just unbelievable," Daniel Christensen, a professor with the University of Utah's Neuropsychiatric Institute, told the Tribune. "He was unique. I don't know if there will ever be another person quite like Kim."
The Associated Press adds that:
Peek inspired writer Barry Morrow when he wrote Rain Man, the 1988 movie that won four Academy Awards. Fran Peek said his son met Morrow at a convention in the early 1980s and the writer was taken with Peek's knack for retaining everything he heard. Morrow wrote the script, and the movie went on to win Oscars for best film and best actor for Dustin Hoffman, whose repetitive rants about being an excellent driver and the People's Court about to start were a hit with moviegoers.
Update at 12:10 p.m. ET: Howard is due to report more about Peek's life on today's edition of All Things Considered. Click here to find an NPR station near you.