'Massive' Earthquake Hits Chile; Tsunami Warnings Up Across Pacific
(This story is developing. Click "refresh" and scroll down to see our latest updates.)
By Mark Memmott
A "massive 8.8-magnitude earthquake struck Chile early Saturday" the Associated Press writes, "killing at least 78 people, collapsing buildings and setting off a tsunami."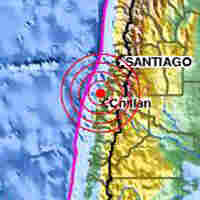 By comparison, the devastating earthquake in Haiti on Jan. 12 was a 7.0-magnitude temblor.
Today's quake, which the U.S. Geological Survey says happened at 3:34 a.m. local time (1:34 a.m. ET), is thought to have been centered off Maule, Chile, and about 22 miles below the surface of the Earth.
The BBC reports that "one resident of Chillan, 100km (62 miles) from the epicenter, told Chilean television the shaking there lasted about two minutes."
According to the AP, "a huge wave" already reached a populated area in the Robinson Crusoe Islands, 410 miles off the Chilean coast, Chilean President Michele Bachelet said.
The National Weather Service's Pacific Tsunami Warning Center has issued a tsunami warning that stretches across the Pacific Ocean. Here's how it reads:
"A TSUNAMI WARNING IS IN EFFECT FOR:
"CHILE / PERU / ECUADOR / COLOMBIA / ANTARCTICA / PANAMA / COSTA RICA / NICARAGUA / PITCAIRN / HONDURAS / EL SALVADOR / GUATEMALA / FR. POLYNESIA / MEXICO / COOK ISLANDS / KIRIBATI / KERMADEC IS / NIUE / NEW ZEALAND / TONGA / AMERICAN SAMOA / SAMOA / JARVIS IS. / WALLIS-FUTUNA / TOKELAU / FIJI / AUSTRALIA / HAWAII / PALMYRA IS. / TUVALU / VANUATU / HOWLAND-BAKER / NEW CALEDONIA / JOHNSTON IS. / SOLOMON IS. / NAURU / MARSHALL IS. / MIDWAY IS. / KOSRAE / PAPUA NEW GUINEA / POHNPEI / WAKE IS. / CHUUK / RUSSIA / MARCUS IS. / INDONESIA / N. MARIANAS / GUAM / YAP / BELAU / JAPAN / PHILIPPINES / CHINESE TAIPEI"
And it's issued this specific message for Hawaii:
"A TSUNAMI WARNING CONTINUES IN EFFECT FOR THE STATE OF HAWAII."
The wave is expected to reach Hawaii around 11:19 a.m. local time (4:19 p.m. ET) and to be large enough to potentially cause damage along the islands' coasts.
Here are some websites to monitor for more on the earthquake and the tsunami danger:
-- USGS' "latest earthquakes in the world."
-- The Pacific Tsunami Warning Center.
-- The Honolulu Advertiser.
-- Japan's Kyodo News.
-- The BBC's Americas page. There's a story there, by the way, that makes the point that Chile is "well prepared for quakes."
We'll be updating this post. Be sure to click your "refresh" button to see our latest additions.
Update at 5:40 pm ET
Hawaii appears to have passed the worst of the dangers from a tsunami spawned by the magnitude 8.8 tsunami off the coast of Chile Saturday morning.
The Pacific Tsunami Warning Center hasn't lifted its tsunami warning for Hawaii's coastal areas but is expected to.
The reporting from the Honolulu Advertiser puts the early tsunami wave heights at three feet or so.
An excerpt:
Waves reaching heigthts of 1 meter reached Kahului Harbor, while waves just under 1 meter hit Hilo Harbor in the last hour, according to scientists at the Pacific Tsunami Warning Center in Ewa Beach.
They said the intitial waves may not be the biggest, so they are continuing to monitor the situation.
A bump was noticed along Kalaeloa on Oahu, but not more so far, they said.
Gauges monitored by the warning center suggest that ocean levels rose 3 feet before noon today during a state-wide tsunami warning and people should remain on alert.
Local television station anchors on KGMB-TV in Honolulu, the CBS affiliate, are saying that the tsunami warning amounted to an emergency drill since a huge tsunami of six feet or more didn't materialize.
Update at 2:10 p.m. ET.
More pictures are emerging of the damage in Chile. This was taken in Concepcion:
Update at 1:48 p.m. ET. Obama Offers Help:
At the White House a few minutes ago, President Barack Obama said he and first lady Michelle Obama offer their "deepest condolences to the Chilean people" and that the U.S. stands ready to help Chile in any way it can.
He also urged U.S. residents along the Pacific Coast and in Hawaii to listen to local authorities and be prepared to move higher ground if necessary in order to avoid the tsunami.
Update at 1:40 p.m. ET. Death Toll Estimate Rises To Nearly 150: Reuters is reporting that Chile's "National Emergency Office" now says at least 147 deaths have been attributed to today's quake.
And, the White House "pool" of reporters has been told to expect a statement about the earthquake at 2 p.m. ET. We don't know if it will be from the president himself, but since the pool's been called to come it's likely President Barack Obama will be appearing.
Update at 12:50 p.m. ET. Prelimary Estimate Has Six-Foot Waves Reaching Hawaii: Here's some potentially good news. According to The Advertiser, "the largest waves to hit Hawaii's shores will be abut 2 meters, or 6 feet, based on preliminary data from simulation models and dart gauges set up across the Pacific, said Victor Sardina, a geophysicist for the Pacific Tsunami Warning Center."
Update at 12:25 p.m. ET. New Video From Chile. The AP has posted this "raw video" of post-earthquake scenes in Chile:
Update at 11:30 a.m. ET. TV From Chile. USTREAM is providing a feed of TV coverage from Chile. (12:30 p.m. ET: We've removed the player because the feed seems to have gone off.)
Update at 11 a.m. ET. Sirens Blaring In Hawaii: Sirens just went off in Honolulu and other areas of Hawaii, where people in low-lying areas are being told to prepare to move to higher ground. The first waves generated by the tsunami are expected there in about five hours. KHON-TV is streaming its coverage here. Hawaii Public Radio is streaming its coverage here.
Update at 10:35 a.m. ET: Death Toll Rises Further:
Chilean president-elect Sebastian Pinera just told reporters he's been told that the death toll has risen to at least 122.
Update at 10:30 a.m. ET. One Of History's Strongest Quakes:
If the estimate of this earthquake's magnitude remains at 8.8, that easily puts it in the top 10 of known earthquakes (ranked by intensity) according to USGS. Here's the top 10 list before today:
-- May 22, 1960; Chile; 9.5 magnitude.
-- March 28, 1964; Prince William Sound, Alaska; 9.2.
-- Dec. 26, 2004; Sumatra-Andaman Islands; 9.1.
-- Nov. 4, 1952; Kamchatka; 9.0.
-- Aug. 13, 1868; Arica, Peru (now Chile); 9.0.
-- Jan. 26, 1700; Cascadia Subduction Zone; 9.0.
-- Jan. 31, 1906; Off the Coast of Esmeraldas, Ecuador; M 8.8.
-- Feb. 4, 1965; Rat Islands, Alaska; 8.7.
-- Nov. 1, 1755; Lisbon, Portugal; 8.7.
-- July 8, 1730; Valparasio, Chile; 8.7.
Update at 10:15 a.m. ET. White House Statement And Tsunami Guidance For Local Authorities:
White House spokesman Robert Gibbs just released a statement that says, in part:
"Our thoughts and prayers are with the people of Chile, and we stand ready to help in this hour of need."
And at the Pacific Tsunami Warning Center, there's this guidance for local authorities in places that are in the path of the projected tsunami. It underscores the need to move people to higher ground, and keep them there, for several hours after the first waves arrive:
"FOR ALL AREAS - WHEN NO MAJOR WAVES ARE OBSERVED FOR TWO HOURS AFTER THE ESTIMATED TIME OF ARRIVAL OR DAMAGING WAVES HAVE NOT OCCURRED FOR AT LEAST TWO HOURS THEN LOCAL AUTHORITIES CAN ASSUME THE THREAT IS PASSED. DANGER TO BOATS AND COASTAL STRUCTURES CAN CONTINUE FOR SEVERAL HOURS DUE TO RAPID CURRENTS. AS LOCAL CONDITIONS CAN CAUSE A WIDE VARIATION IN TSUNAMI WAVE ACTION THE ALL CLEAR DETERMINATION MUST BE MADE BY LOCAL AUTHORITIES."
Update at 10:05 a.m. ET. Death Toll Rising. The AP now writes that:
Chilean Interior Minister Edmundo Perez Yoma said the most powerful quake to hit the country in a half-century killed at least 82 people, but the death toll was rising quickly.
Update at 9:45 a.m. ET. Google has launched a "person finder" for those either looking for information about people in Chile or those who have information about people in Chile:
Update at 9:30 a.m. ET. As the Advertiser now reports, tsunami warning sirens are set to start blaring in coastal areas of Hawaii at 6 a.m. local time (11 a.m. ET), signalling to those in low-lying areas that it's time to start moving to higher ground.
Meanwhile, an American tourist who's in Chile tells the AP that a lamp in her hotel room "flew off the dresser and my TV flew off on to the floor and crashed":
For those who read and speak Spanish, the Chilean Red Cross is tweeting here.
Update at 9:05 a.m. ET: The National Weather Service's West Coast and Alaska Tsunami Information Center has issued a tsunami "advisory" for "coastal areas of Oregon, Washington, British Columbia and Alaska from the Oregon-California border to Kodiak, Alaska."
An advisory is not as serious as a "warning." It means that:
"A tsunami capable of producing strong currents or waves dangerous to persons in or very near the water is imminent or expected. Significant, widespread inundation is not expected for areas under an advisory. Currents may be hazardous to swimmers, boats, and coastal structures and may continue for several hours after the initial wave arrival."
That NWS center has also produced this "preliminary forecast model energy map" that shows the direction and strength of the potential waves generated by the quake. The reddest areas are expected to get the biggest waves:
Update at 8:35 a.m. ET: Many reports and commments are flowing into Twitter (use #Chile to see them). And NPR's Andy Carvin has set up a Twitter list of them there.
As daylight arrives in Chile, more photos are arriving of the damage there. Here's one of a highway near Santiago, where vehicles overturned when some of the elevated roadway collapsed: