Reagan 'Real Hope And Change' Billboard Follows Bush 'Miss Me Yet?'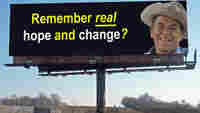 There was enormous interest last month in the "Miss Me Yet?" George W. Bush billboard near Wyoming, Minn.
Now there's a billboard with the message "Remember real hope and change?" and a huge photo of former president Ronald Reagan along Interstate-94 near Albertville, Minn.
Conservative blogger Ed Morrissey at Hot Air gets the credit for spreading the word across the Web about the Reagan sign. As he writes:
"Somehow, I think people will miss this man more than the one featured in the 'Miss Me Yet?' billboard that appeared outside the Twin Cities in Minnesota last month."
Minneapolis' WCCO-TV says that, as with the "Miss Me Yet?" sign, the identities of those who paid for the Reagan billboard aren't known.
It would seem safe to say, though, that those behind the sign don't think President Barack Obama measures up to Reagan.
Morrissey, by the way, writes that;
"The CBS folks believe that the photo I used has been retouched in some way, although it looks more like the process of converting it to JPG format has created some irregularities. CBS also confirmed that the billboard exists with Franklin's owner, Keith Franklin. I'll ask friends in the area to take a fresh picture of it and send the raw file back to me."
Since WCCO has its own photo and video of the sign, there's certainly no question about the billboard's authenticity. When we get another photo of the sign, we'll post it.