Firing-Squad Execution Scheduled By Utah Judge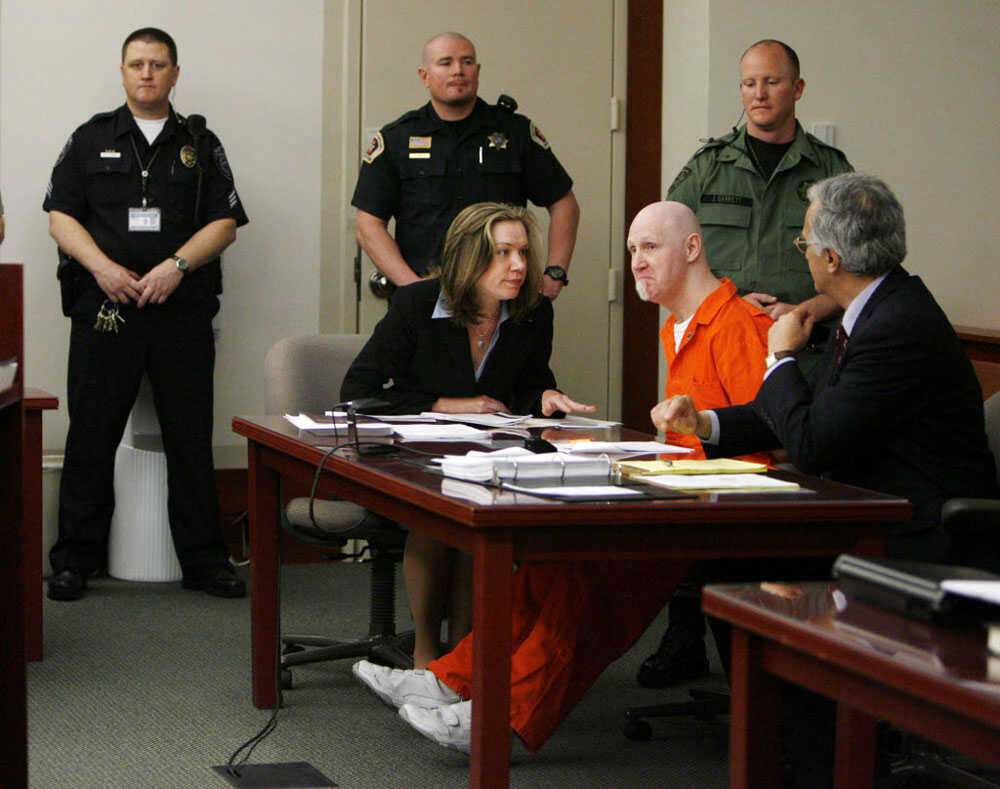 Francisco Kjolseth/AP Photo
Utah is on track to have in June its first execution by firing squad since 1996 now that a judge has signed a death warrant for an inmate who chose that method over lethal injection.
One of the curious aspects of the now scheduled execution of Ronnie Lee Gardner, 49, who killed a defense lawyer during a failed courtroom escape attempt when he was on trial for an alleged murder, is that choosing a death by firing squad is no longer possible in Utah.
But the law outlawing firing squads was passed in 2004 after Gardner had already chosen the manner in which he wanted to be put to death. So he was essentially grandfathered into the firing squad.
One of the nation's most famous executions in recent years was by firing squad in Utah when the state put to death Gary Gilmore in 1977. His death inspired Norman Mailer's 1979 novel "The Executioner's Song."
Here's a snippet from NPR correspondent Howard Berkes' report for the network's newscast:
The execution is set for June 18th but legal motions may cause delays. The last time the firing squad was used here was in 1996 and witnesses then said the execution was not as brutal or bloody as expected.
But dozens of reporters from around the world descended on Utah to chronicle what most characterized as a barbaric remnant of the old west.
The Deseret News reports:
SALT LAKE CITY -- A judge signed an execution warrant Friday for Ronnie Lee Gardner, ordering that he be put to death on June 18.
"I would like the firing squad, please," Gardner told 3rd District Judge Robin Reese.
Reese heard last-minute arguments by defense attorneys hoping to convince him to change the sentence to life in prison. But the judge refused and signed the warrant authorizing the Utah State Prison to execute him.
"There is nothing in the arguments today to cause further reflection," Reese said, adding that none of the new defense arguments constituted a legal reason to stay the execution.
"It is my belief that the defendant has exhausted all legal remedies," he said.
Gardner was shackled and surrounded by 11 armed guards during the hearing Friday. He had requested to appear via video feed from the prison, but Reese ordered him to attend in person.
Gardner had the choice of being executed by lethal injection or firing squad. He is one of five of Utah's 10 death row inmates who chose death by firing squad at the time of his sentencing, so he is able to choose how he will die. Though a law passed by the 2004 Utah Legislature eliminated death by firing squad, those who had requested such a death originally are still allowed the option.
Over the years, Gardner initially requested to die by firing squad. Then in 1990, he told a judge he preferred to die by lethal injection for the sake of his children, who "didn't understand" the firing squad decision. But in 1996, he told the Deseret News he would go so far as to sue for his right to die by firing squad because it was the option he always favored.
"I guess it's my Mormon heritage," Gardner said at the time. "I like the firing squad. It's so much easier ... and there's no mistakes."