With 'Tea Party Mandate,' Rand Paul Looks Ahead To General Election
Rand Paul, the son of Rep. Ron Paul, says his victory in the Kentucky Republican primary yesterday gave him a "Tea Party mandate" for "good government types of things," to fight for term limits and a balanced-budget amendment.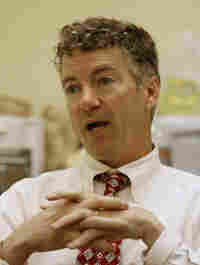 In an interview that will air on All Things Considered tonight, Paul told NPR's Robert Siegel that he is very optimistic about his chances in the general election, anticipating a groundswell of support from independents and conservative Democrats weary of the status quo.
Asked about his relationship with Sen. Mitch McConnell (R-KY), who supported Kentucky Secretary of State Trey Grayson, Paul's primary opponent, Paul said he plans to participate in a unity event with the Senate Minority Leader, scheduled to take place on Saturday, at the Best Western in Frankfort, Ky.
On the campaign trail, Paul has been an outspoken critic of government regulation of industry. He said he would like to see more regulation take place at the local level: "I think that most manufacturing and mining should be under the purview of state authorities."
Referring to the recent mine explosion in West Virginia, and the ongoing oil spill in the Gulf of Mexico, Paul said he is skeptical of assigning blame to individuals and companies.
"The problem a lot of times is that many people look at tragedy and accident, and think that there always has to be someone to blame," he told Siegel.
I think it's not always someone's fault. I think there are things that happen in nature, things that happen that are tragedies. I think the mining explosion was a great tragedy and I have great sympathy for those families out there, I've met a lot these miners, I've met their families and they're hard working people who do work in a risky environment, but I don't think that I see that there is some sort of evil business there that is trying to harm people.
I think that sometimes we have tragedies and accidents. I think you may find with this oil rig explosion -- I'm not sure if there was someone at fault, or if they broke any rules, but I think we investigate them in a reasonable, non-emotional fashion and try to come up with answers.
Paul will face Kentucky Attorney General Jack Conway, the Democratic Party's nominee, in November.