Rick Scott v. Bill McCollum: Turnout Was Important In Florida Republican Primary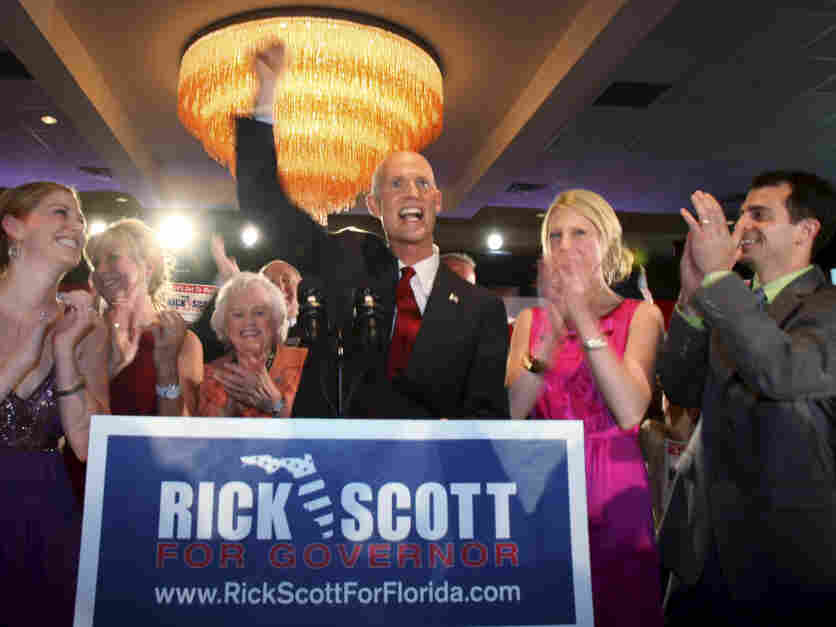 In Florida, millionaire healthcare executive Rick Scott defeated Bill McCollum, the state's attorney general, in the Republican gubernatorial primary there.
What can we learn from the election results?
"It is fairly clear that the anti-establishment / anti-Washington / pro-radical revolution plankton are feeding more off Republicans than off Democrats," The Atlantic's Marc Ambinder writes. "As the year has unfolded, it has become easier and easier for formerly fringe candidates to find funding sources, get key 'outsider' endorsements and shock complacent frontrunners."
When it comes to the Tea Party factor, remember: about issues it ain't. Bill McCollum was one of the attorneys general who filed a lawsuit against Obama's health care reform bill. He is as conservative as a Blackberry at an Apple convention.  But he has ties to the state's now-discredited Republican establishment (think of the indictment of the former party chairman) and his avuncular, amiable, comfortable-as-a-leather shoe style just doesn't fit with the times.  Rick Scott didn't need the money, but the Tea Party Express helped him build a volunteer base.
He points to this startling statistic: "More Republicans voted for Marco Rubio than Democrats did for all four Senate candidates combined, an ominous and unsurprising sign that enough Democrats are probably going to align themselves with Charlie Crist so that Crist wins or Rubio walks away with the seat."
The New York Times says that, "beyond the win-loss results of Tuesday's Florida primary — with Rick Scott seizing the Republican mantle for governor, and Kendrick Meek winning the Democratic nomination for the United States Senate — there lie more subtle signs of what to look for in November."
Reporter Damien Cave points to turnout ("Republicans, despite a 750,000-voter disadvantage in registration, brought far more people the polls") and a group of GOP candidates that "appeal to an angry, frustrated electorate in a swing state that is still bouncing along the bottom economically.
You can read NPR Political Editor Ken Rudin's take here.