Your Credit Card Isn't Worth As Much As You Think
If you're like me, you're slightly paranoid about your credit card data. You've taken all the precautions, checked your statements frequently for fraudulent spending, carefully hidden them in a 'top-secret' shoe compartment. What, wait, you don't do that?
Well, your precious data that you protect so diligently is worth, wait for it, $1.50. That's because, well, all those security precautions you take don't really do that much, especially against trojans and hackers who you probably don't do enough to defend against. There are so many stolen credit cards that they come cheap.
Brian Krebs found all this out by creating an account on one site that sells credit card data rock3d.cc.
The trouble is, the minute you seek to narrow your search using the built-in tools, the site starts adding all these extra convenience fees (sound familiar?). For example, if I were going to buy a card stolen from anyone around the Washington, D.C. area, it would probably be from a resident of McLean, Va., which is more or less a tony place where plenty of well-to-do folk reside. Anyway, the site found me a card (a MasterCard) belonging to a McLean resident alright, but then the service wanted to tack on an extra $.60 just because I isolated my search by city and state — raising the cost in my shopping cart to $2.10! No way, Jose. Not this bargain shopper.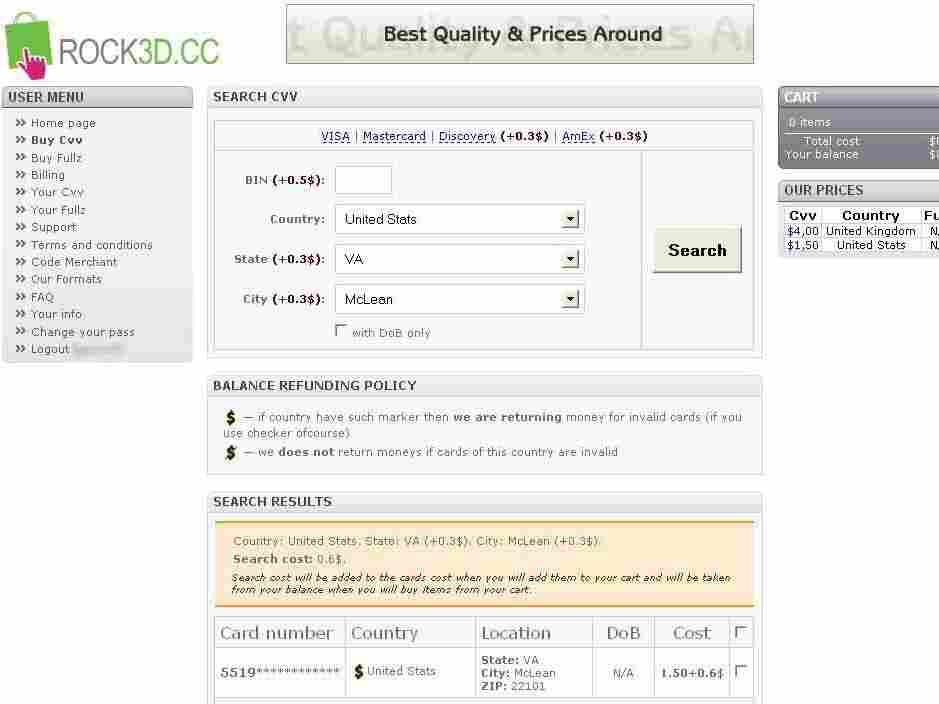 (hat tip: BoingBoing)