Jay-Z, A New Book, And An Assessment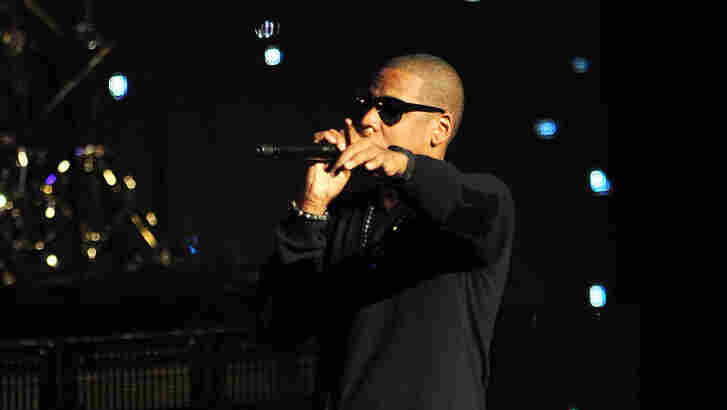 Let me just be clear here, I think Jay-Z is a bloody genius, and take just about any chance I get to put him and his work on public radio. Which admittedly isn't as often as I'd like.
But the reason he's fascinating, I mean, besides the songs, and the fact that he's married to Beyonce, is his story. His re-shaping and re-making and re-defining of what it means to be a success. A 40-year-old rapper who is still putting out number one records. From the Brooklyn projects to an entrepreneur with a string of businesses (including the Spotted Pig in Greenwich Village, who knew? Go eat there if you haven't. It's great.) And now he has a new book of annotated lyrics. The WSJ has a fascinating piece today pegged to the book, but really an assessment of the whole of Jay-Z.
Now, to state his case more clearly, the rapper born Shawn Carter has turned to prose. His first book, "Decoded," to be published Nov. 16, is a hybrid of music history, social commentary and memoir, with an emphasis on his transition from the crack trade to the music business. The 336-page book is structured around the lyrics to 36 Jay-Z songs, each footnoted to unpack his allusions, slang and double entendres. This couplet, "No lie, just know I chose my own fate/I drove by the fork in the road and went straight," is explained in footnote 16 to the song "Renegade": "I went straight—stopped selling drugs—but I also didn't accept the false choice between poverty and breaking the law." Microsoft put up about $1 million for the marketing of the book.

He had rejected proposals to write a conventional business-strategy book. "Our ambition was never to just fit into the corporate mold, it was to take it over and remake that world in our image," he writes in a footnote to "Operation Corporate Takeover," a song that rhymes "reverse merger" with "no need to converse further."

The book deal follows his classic playbook. He maintains tight creative control of the project, but often connects with deep-pocketed corporate partners. Companies hope to borrow some of the rapper's glow, of course, but he has also used such deals to shape his own public image.
Definitely go read the whole thing.