Navy Puts Out Graphic Novel About Corpsmen, The Medics Who Also Fight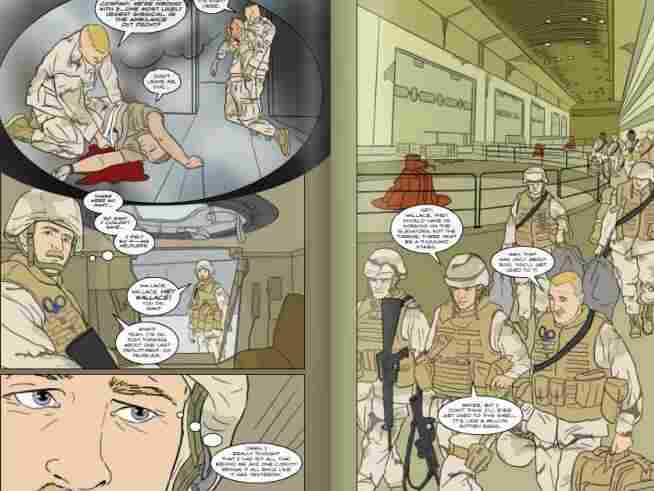 The U.S. military has used video games to help train their personnel -- and to help boost recruiting. Now the experiences of Navy corpsmen have spawned a new graphic novel, published by the U.S. Navy's Bureau of Medicine.
As the KPBS blog Home Post reports, The Docs was born out of a desire to prepare new corpsmen for the mental stress of combat.
And that stress is substantial. Corpsmen are often called on both to fight and to try to save the lives of wounded Marines. As Jamie Reno of KPBS writes, surveys of U.S. combat personnel show that "at the height of Operation Iraqi Freedom in 2007, corpsmen were exposed to more intense combat than any other Navy component."
All of the stories in the book are based on real events, says Dr. Heidi Kraft, a former lieutenant commander who helped create the graphic novel. As she tells Reno:
Corpsmen are taught to be brave and stoic when caring for the wounded. It's a powerful and moving relationship between corpsmen and Marine. At one moment Marines are invincible warriors, the next they they are wounded and completely dependent on corpsmen to save them.
The book, which mixes scenes from both civilian and off-duty life with vignettes that show the corpsmen being placed in harm's way, is available online and in hardcopy.