Uproar Over TSA Pat-Downs Grows Louder As Fliers Share Their Stories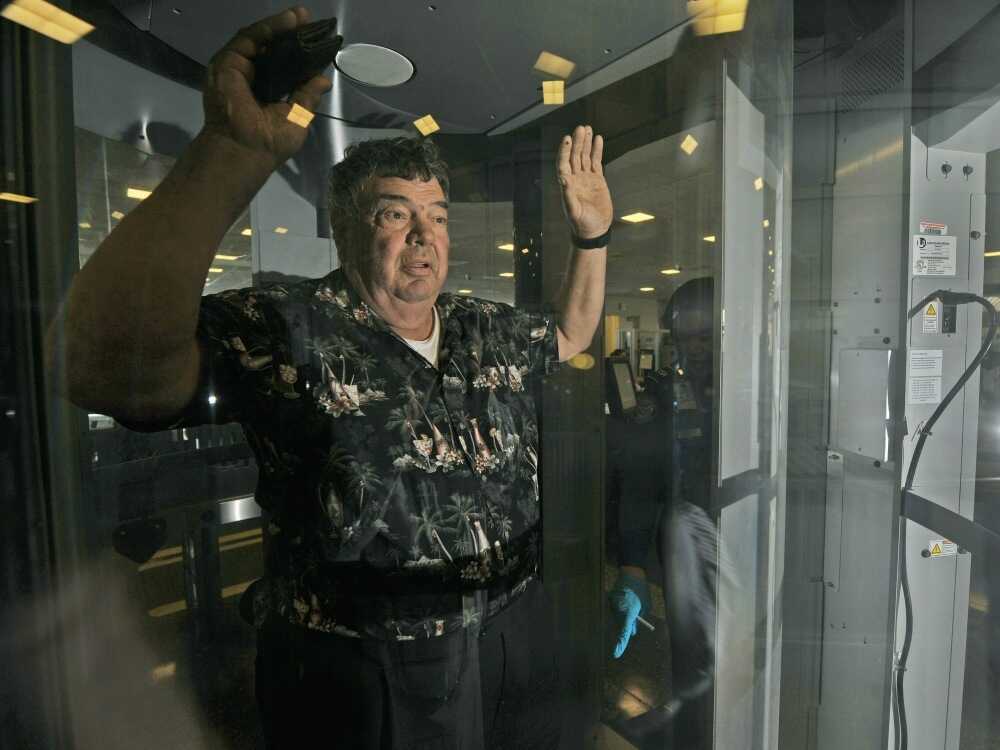 New airport screening procedures continue to make news, especially as more passengers who refuse to walk through full body X-ray machines are frisked by hand and tell their stories.
The Transportation Security Administration agreed Friday to drop body scans and aggressive pat-downs for uniformed pilots. But they must still pass through a metal detector at airport checkpoints and present photo IDs that prove their identity.
And even those concessions didn't come easily. Union leaders had pushed for two years to give pilots a break. Capt. Chesley Sullenberger, hero of the miraculous 2009 Hudson River water landing, helped that effort by urging that the government treat pilots as "trusted partners" when it comes to national security.
As we enter holiday travel time, complaints may continue to mount.
USA Today reports that some key lawmakers are expressing their displeasure about the "enhanced pat-down" procedures the Transportation Security Administration has put into place:
In a letter to the TSA, Rep. John Mica, R-Fla., and Rep. Thomas Petri, R-Wis., who are set to assume leadership of aviation issues in Congress next year when Republicans take control, said only the highest risk passengers should be subjected to the more aggressive pat-downs.
Today, Cathy Bossi, a flight attendant and cancer survivor told CBS affiliate WBTV that during a pat-down in August, a TSA agent asked her to remove her prosthetic breast:
She says two female Charlotte T.S.A. agents took her to a private room and began what she calls an aggressive pat down.  She says they stopped when they got around to feeling her right breast… the one where she'd had surgery.

"She put her full hand on my breast and said, 'What is this?'.  And I said, 'It's my prosthesis because I've had breast cancer.' And she said, 'Well, you'll need to show me that'."
Tom Keane, a columnist at the Boston Globe had his own TSA run-in as he flew out of Boston's Logan Airport. He describes his experience in vivid detail in today's column:
The agent firmly ran his hands over my entire body, head to toe, front and back. He rubbed his hands over my buttocks and in between. He put his hands in my pants and ran them all around my waist. From behind, he ran his hands along my legs, all the way up my thigh as high as he could go and onto my genitals.

Then he moved in front of me and then did the same thing again. Remember the question once asked of candidate Bill Clinton: "Boxers or briefs?'' My TSA examiner knows.

I have never been sexually molested or raped, so I have no idea how my experience compares. But I walked away feeling invaded, sickened, and humiliated.
Business traveler Penny Moroney was flying out of St. Louis and she told KMOV of a similar pat-down experience:
"Her gloved hands touched my breasts...went between them. Then she went into the top of my slacks, inserted her hands between my underwear and my skin... then put her hands up on outside of slacks, and patted my genitals. I was shaking and crying when I left that room," Moroney says.

"Under any other circumstance, if a person touched me like that without my permission, it would be considered criminal sexual assault."
The USA Today reports that Mica and Petri have received complaints about the searches from their constituents. They quote the lawmakers:
"The level of public angst is a clear indication that TSA has missed the mark on properly balancing the rights of citizens with the need to screen travelers," they said.