Oh Dear! 'Dodgy Depictions' Of Prince William And Kate On Official Coin
The reviews are in about the official commemorative coin for the engagement of Britain's Prince William and Kate Middleton — and they're not kind:
-- "Apparently inspired by a picture taken at a polo match, Kate looks far chunkier and older — nothing like her normal stunning, finely-chiselled appearance. William's image looks more flattering but he has been engraved with what seems to be an Elvis Presley quiff." They are "dodgy depictions." (The Mirror.)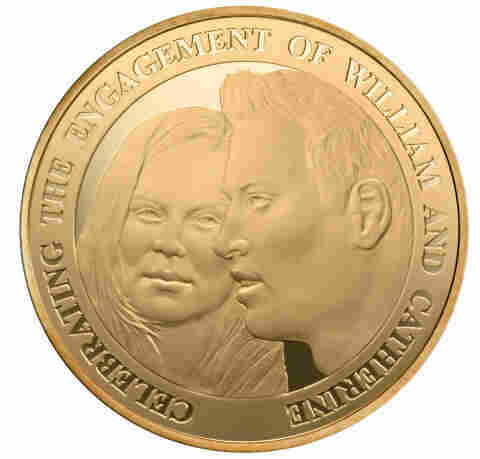 -- "The badly executed image of the Royal couple, by the Royal Mint's head of design Matthew Bonaccorsi, bears little likeness to either partner. In, perhaps, a clumsy attempt at flattery, Kate's upper lip appears to have been plumped beyond recognition." (The Daily Mail.)
Mario Testino/Getty Images
-- "This coin is of historical importance, to get it so wrong seems ridiculous." (Ingrid Seward, editor in chief at Majesty Magazine, speaking to Sky News.)
The news outlets say the coins were approved by the Queen and William. There's no word we can find about what Kate has to say.
By the way, if you'd like one of the coins, the Royal Mint is taking orders here. Prices start at 9.99 pounds (about $15.40) and go all the way up to 1,550 pounds (about $2,400) for the gold proof version.