Moving East, Winter Storm Creates White-Out Conditions, Travel Headaches
The Weather Channel reports that by the time this massive winter storm has worked its way from Colorado to New England, it will have affected 100 million people — that's a third of the U.S. population.
The storm will bring with it heavy snow — Chicago alone is expected to receive two feet of snow in 24 hours, — bitter cold, ice and even tornados.
Throughout the day, we'll keep this post updated. So make sure to hit the refresh button to see the latest.
Update at 10:16 p.m. ET: We're pausing the live blog now. But we'll be back bright and early to survey the scene in Illinois and the northeast.
Update at 10:12 p.m. ET: The storm is now hitting Chicago and its vicinity hard. But here are some preliminary headlines from Kansas, Oklahoma, Missouri, Illinois and Michigan, which have gotten hit hardest today:
— Kansas City Star: I-70 was closed so the American Red Cross had to open a shelter so stranded motorists could have some food and a place to sleep.
— Tulsa World: Tulsa saw 14 inches of snow, which set a 24-hour record. The snow caused the roof of the Hard Rock Casino and Hotel to collapse.
— St. Louis Post-Dispatch: St. Louis dodged the brunt of the storm. Still I-70 between St. Louis and Kansas City was closed, as was I-44 from the Oklahoma line to Joplin. The mayor's chief of staff said, "When all is said and done it will be a normal winter storm."
— Columbia Tribune: So far Columbia, Missouri was one of the hardest hit areas. The paper reports that 23.2 inches of snow had accumulated. Police were encouraging drivers to abandon their vehicles. Some of them provided rides home to stranded motorists.
— Chicago Sun-Times: By 9:40 p.m. ET, authorities had closed I-80 southeast of the city. The paper reports a police sergeant saying conditions were terrible: "There are too many crashes," said Sgt. Chris Paluch. "And too many vehicles in ditches. You can't even get to the cars anymore."
— Detroit Free-Press: Detroit Metro Airport cancelled more than 200 flights Tuesday. Like in most places in the midwest, Detroit students are also getting a snow day.
Update at 6:05 p.m. ET: As the storm makes its way into Chicago, Gov. Pat Quinn said the National Guard will help stranded motorists off on the roads. The Chicago Sun-Times also reports that Metra, Chicago's regional trains, have ditched their schedule and are just trying to get people out the city. As for the airports, the paper reports:
In anticipation of the incoming blizzard, operations at Midway Airport have been shut down for the day Tuesday and most airlines at O'Hare Airport — where more than 1,300 flights have been canceled so far — have indicated they will have limited or no operations on Wednesday, according to the Chicago Dept. of Aviation.
Update at 5:05 p.m. ET: My colleague Sondra Russell just introduced me to Weather Underground's Full Screen Weather app. You need the Chrome browser to use it, but it's well worth the time it takes to download it. It shows you real-time radar, nationally, and also gives you access to webcams around the country. Here's one from Chicago showing about six inches of snow.
Update at 4:20 p.m. ET: To give you an idea of how massive this storm is, and the amount of the country that it's affecting, NASA just released this satellite image of the U.S.:
Update at 4:16 p.m. ET: Heavy snow has just moved into Chicago. Chicago Weather Center reports:
Heavy snow continues to overspread much the Chicago area at 3:00PM. Heavy snow (S+) with visibilty of 1/4 of a mile or less is being reported at O'Hare, Midway, Aurora, Wheeling, Peoria, Lansing and Morris. 40mph winds whipping the heavy snow will make it almost impossible for road crews to keep highways clear.
Update at 2:45 p.m. ET: The Tulsa World reports that there are hundreds of cars stranded across the city. Things are so bad that for the first time in its more than 100 year history, the paper will not publish a paper copy tomorrow.
Update at 2:31 p.m. ET: A little unintentional humor from the Tulsa World. They have an advisory on the homepage of their site about the whereabouts of today's paper: "Due to extreme weather conditions, today's paper was delivered but is buried by several inches of snow."
Update at 2:10 p.m. ET: CNN has this quote about what the weather was like in Dallas, when the airport shutdown:
"We had thunderstorms, we had rain, we had freezing rain, ice pellets, sleet — the only thing we didn't have was hail and sunshine," said Ed Martelle, the spokesman for AMR Corp., which owns American Airlines.
Update at 1:59 p.m. ET: Jeff Moore of Jefferson City, Missouri send this picture of his wife in knee-high snow.
Update at 1:56 p.m. ET: If you want to keep track of snow totals weather.com has a nifty real-time map.
Update at 12:36 p.m. ET: President Barack Obama was briefed by Department of Homeland Security Secretary Janet Napolitano about the massive storm. Officials in 11 states, said a statement from the White House, are in close contact with FEMA which has "prepositioned commodities for rapid delivery, if needed, including water, meals, blankets, cots, generators and other essential items."
Update at 11:52 a.m. ET: Dallas/Fort Worth International has reopened. So far, air travel seems OK.
Update at 11:43 a.m. ET: Meteorologist Tom Skilling at the Chicago Weather Center blog has perhaps the most succinct and understandable explanation for what's causing this massive storm. He explains that a sizable low pressure system is moving northeast from Texas and dueling with an intense high pressure system filled with arctic air.
The result is blizzard warnings for nine states across the midwest. Skilling also reminds us that storms this big are unusual, even for Chicago:
In the 126 years since official snow records began here, a foot or more has fallen on only 22 occasions—-making such an accumulation a once-in-every-half-decade event on average. Even rarer have been Chicago's 16-inch or greater snowstorms—-just five are on the books since the 1884-85 cold season.

And rarest of all are Chicago's 20-inch+ snows. There have been only two—-the last of them over a decade ago on Jan. 1-3, 1999 when 21.3 inches of snow accumulated. To this day, that storm ranks as the city's second heaviest snowfall behind the 23- inch tally produced by the infamous "Blizzard of 1967.
Update at 11:25 a.m. ET: The Weather Channel reports that 14 inches of snow are on the ground in Tulsa. Snow drifts forming across the metro area are much deeper than that. Check out this snow drift that @tulsascott posted on Twitter: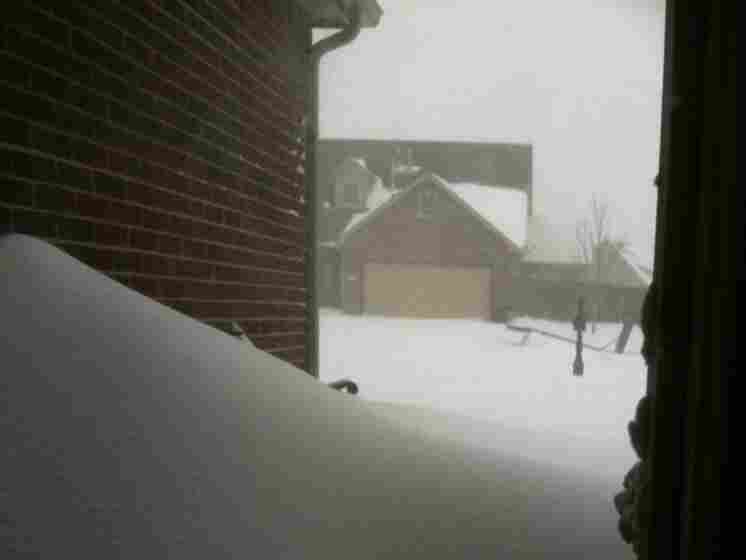 Update at 11:18 a.m. ET: NPR's Linton Weeks tackles the question of whether or not the dire warnings from National Weather Service and others are hyperbole or justified.
Update at 10:07 a.m. ET: CNN reports that snow is falling fast an furious in Oklahoma. It's falling at a rate of two to three inches per hour. We also want to remind you if you take a video or photograph that you think we should see, point it out in the comments.
Update at 9:03 a.m. ET: Another aspect of this storm is the amazing cold it's bringing with it. Current temperature in Denver? -13 degrees. The low today is -20; the high -3.
Update at 8:49 a.m. ET: We're expecting lots of travel headaches in the next couple of days. Dallas/Fort Worth International Airport, one of American Airlines' hub, is already shut down because of ice. George Bush Intercontinental in Houston, one of Continental's main hubs, is experiencing ground delays — which means flights out of the airport have been halted — because of thunderstorms.
The FAA provides a useful map of real-time flight delay data here.
Update at 8:39 a.m. ET: Right now, Oklahoma City is getting the brunt of the storm. The Oklahoman is reporting near white-out conditions with six inches of snow on the ground.
In Kansas, it started snowing at 6 a.m., but the Kansas City Star reports that Gov. Sam Brownback has declared a state of emergency.