Kanye West Video Is Tweaked; Elsewhere, Tweets Start Furor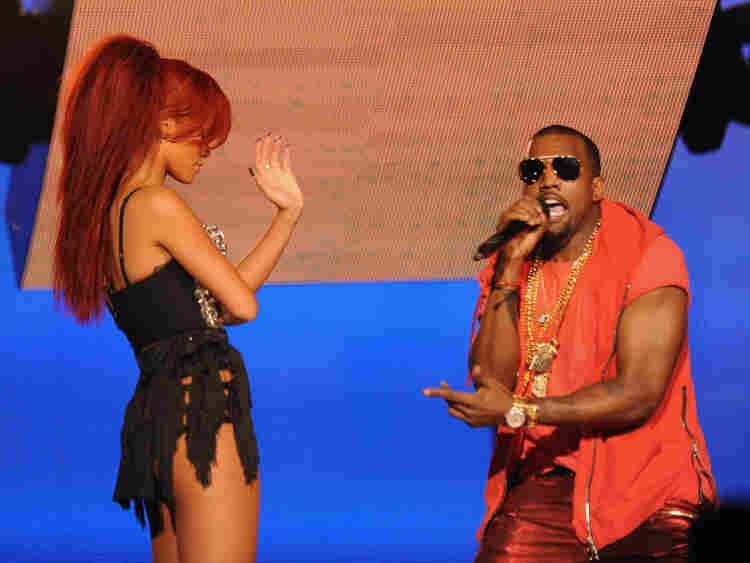 Robyn Beck/AFP/Getty Images
A video for Kanye West's song "All of the Lights" has been pulled from YouTube given an advisory notice, after a British group said that the video's strobing light effects had caused seizures.
Epilepsy Action complained about the video soon after its debut this past weekend.
But as NPR's Zoe Chace reports, the video has other problems, as well. A news spot filed by Chace mentions "featured artist Rihanna's near-nudity — or that the video might plagiarize a recent French film."
Specifically, the video is said to duplicate the look of the opening credits for Enter the Void by director Gaspar Noe. You can see the pulled Kanye West video here.
Charges of plagiarizing images also recently tripped up a Rihanna video, as Chace reported earlier.

And West has more serious troubles to contend with, thanks to his tweets about abortion, which caused a stir Wednesday.
West took aim at what he called "Gold diggin'" by accusing women of getting pregnant on purpose — only to make their partner pay $50,000 or $100,000 for an abortion, he said. The singer later clarified that it had not happened to him, "but I know people."
In his tweet, West used the hashtag #STRAPUP — a reference to using a condom during sex.
Among the people taking exception to West's statement was British singer Lily Allen, who tweeted, "Never has a tweet put me in such a bad mood. This is wrong on so many levels."
Update at 5 pm ET: This post was updated to reflect the addition of an advisory notice to the video. Presumably, it was taken down and later replaced for that purpose.