Wanted By Interpol: Gadhafi, Moammar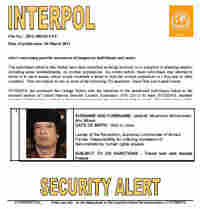 This is the one-page 'Orange Notice' issued today. The agency says it's for the Libyan "Leader of the Revolution, Supreme Commander of Armed Forces. Responsibility for ordering the repression of demonstrations, human rights abuses."
Fifteen other relatives and associates of Gadhafi are also sought, and the international police agency wants to make sure other countries are aware of the world travel ban and asset freeze against them. The AP reminds that the United Nations has referred the Gadhafi regime to to a war crimes tribunal on suspicion of crimes against humanity for its attacks on Libyan civilians.