'The Scale Of Disaster Seems Beyond Our Imagination'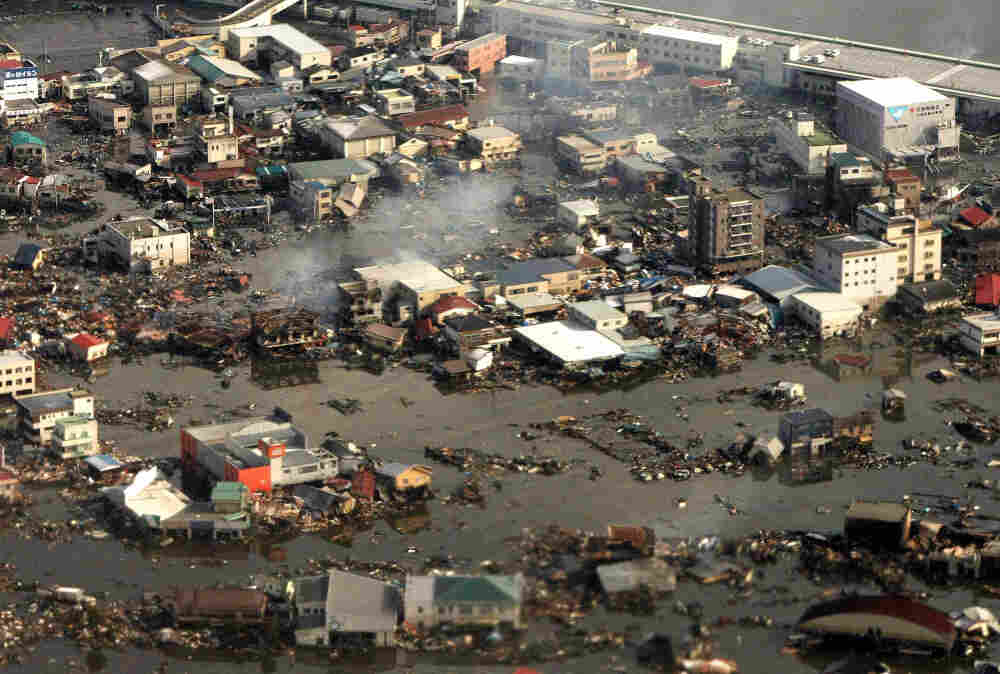 JIJI Press/AFP/Getty Images
The sun rose Saturday on Japan to reveal a country wracked by a 30-foot tsunami and the most powerful earthquake the country had ever recorded.
"I was terrified, and I'm still frightened," restaurant manager Hidekatsu Hata told Reuters from Tokyo moments after the quake struck. "I've never experienced such a big quake before."
We have more firsthand reactions from Japan and the U.S. West Coast below. First, here's a quick guide to our coverage, which we'll continue on this blog Saturday:
A Classroom Story
A callout from NPR's Facebook page brought several responses from Japan. Here's a story from teacher Sarah Marie McHugh, who lives in Ibaraki, an hour from Tokyo:
We were pretty surprised when it lasted more than 30 seconds. Everything in the room began to sway from side to side, and other teachers in my school began running to hold shut the cupboards of tea cups.

It felt like you'd think an earthquake would feel, like being on a boat in a storm with no idea how long you'll be out to sea.

A few students took it as an opportunity to joke around with me in English (if they've learned nothing else from me, they now know the word "earthquake"), but a few other students were crying, some from shock and some from actual concern.

Many of these students have parents who commute to Tokyo for work. With phones down and trains shut down, they had no way of knowing if their families were okay or if they would be able to come home tonight.

Everyone I know is physically alright, but most are shaken and many are stranded in Tokyo.

Now we're all just waiting out the aftershocks and letting our families know we're all right. I have never been so grateful for the Internet in my life.
Finding Places For People To Sleep
From Yokohama, Steven Santos writes:
The trains are all stopped, so people can't get back home and it's really cold. I have 15 people staying in my apt because they can't get home.

Day care and nursery care have to keep the kids whose parents can't get to them. It's really a mess in Kanto tonight. We just got power a few minutes ago, so were just now seeing how bad it's been.
A Catastrophe Seen Online
Videos of wholesale destruction in Japan have provided shocking views of a catastrophe that is playing out on an epic scale. Here is one of the 10 videos that our colleagues highlighted in a blog post for The Picture Show:
You can find more videos at YouTube's CitizenTube site.
Reports From Tokyo
Several witnesses and experts responded to a request for first-hand reports of the disaster that was put out by American Public Media's Public Insight Network.
Physician Masahiro Nakamura, who was working in a hospital when the earthquake hit, says that due to the temblor's strength, "everyone noticed it was not like we had ever experienced" within seconds.
Chie Matsumoto was outside in the middle of Tokyo when the quake hit. "I saw high rises sway like I had never seen before," she says. "So many people came out of the buildings and we evacuated to the largest park in the neighborhood."
Friday night, she says, "People are sleeping at stations, they have tarps prepared, but it is extremely cold even in Tokyo. The sights we see on the news are horrid. The death tolls are rising every minute. The scale of disaster seems beyond our imagination."
'Sleeping In Our Clothes'
Business consultant Hal Offutt was walking along the sidewalk in downtown Tokyo when the quake hit:
"It was pretty terrifying to watch the buildings swaying and feel the street moving under my feet," he said.
And when asked what he's doing now, Offutt said, "It's now 3:40 a.m. and we have been trying to get a little sleep after watching TV for 6-7 hours. We are sleeping in our clothes ready to run outside in case of another huge one."
Echoes Of Disaster On U.S. West Coast
"This is just devastating. I never thought I'd see this again," said Ted Scott, who lived in Crescent City when a 1964 tsunami killed 17 people on the West Coast. "I watched the docks bust apart. It buckled like a graham cracker." - from the AP.
Tracking The Aftermath Online
On Twitter, many people who were left without phone service as Japan's services shut down were still able to send updates and messages to one another. The hashtag #jpjquake attracted dozens of tweets per minute, even late into Friday afternoon.
On the morning after the quake, Voice of America correspondent Steve Herman described the scene in Tokyo. Herman was very active on Twitter throughout the first day of the crisis. Here's a selection of his tweets, with the most recent at the top:
Central Tokyo convenience stores cleared of ALL food.
Minato-ku (Tokyo) morning announcement via loudspeaker: Conserve energy, electricity supply strained.
US Misawa Air Force Base in Japan is without power and everyone there is being told to boil their water.
Estimated 1,000 domestic, int'l flights were canceled Friday in Japan.
It's midnight in Japan. For millions it's the worst night since WW2 bombings.
Long lines at public telephones. Cell phones working but difficult to get line.
Tsunami up to 6m high forecast on Japan's northern Pacific coast.
Preparing For Disaster
In a report for All Things Considered, Lucy Craft said from Tokyo, "To be Japanese is to be born with a sense of vulnerability. They train for natural disasters as soon as they start school."
But on Friday, all those preparations, and billions of dollars in infrastructure, couldn't turn away a tide of destruction.
The northeast, which was hit hardest , is not as densely populated as the region around Tokyo, Craft said, "leaving the Japanese to imagine the havoc that would be wreaked if a mega-quake strikes Tokyo."
Once In A Millennium
NPR's Anthony Kuhn spoke to Brian Atwater of the U.S. Geological Survey, who says, "In Japanese written history, there are accounts of very big earthquakes, and especially tsunami, up near Sendai in the year 869."
So, the massive pressure that was unleashed Friday may have been building up along seismic fault lines since 869, Atwater says.
"Our lifetimes are short compared with the cycles that some of these faults go through. And we somehow have to make the mental leap to think on longer time-scales when looking at hazards like this."
The question Atwater — and Japan — are left to ponder, Kuhn says, is this: How much can we or should we do to prepare for cataclysms that only occur once in a millennium?