Journalist Dorothy Parvaz Is Free; Had Been Held In Syria
Dorothy Parvaz, the al-Jazeera English correspondent who disappeared on April 29 after arriving in Syria to report on the protests there, is now free after an ordeal that included a period when she was held in Iran.
Al-Jazeera says it is "delighted to let you know that Dorothy Parvaz has been released and is safe and well and back with us in Doha. She has been in contact with her family, and we are with her now to find out more about her ordeal over the last 19 days."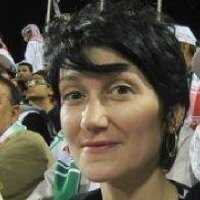 It's not yet clear how Parvaz, who holds U.S., Canadian and Iranian citizenships, ended up in Iran and what happened to her there.
NPR's Peter Kenyon, who monitored the story from Beirut, says Iranian officials never confirmed that Parvaz was sent there. He adds that Parvaz's fiance says she has told him she was treated well while in detention.
Her case inspired an active #FreeDorothy campaign on Twitter and a Free Dorothy Parvaz page on Facebook.