Tea Party Wants Obama To Condemn Hoffa's Hot Words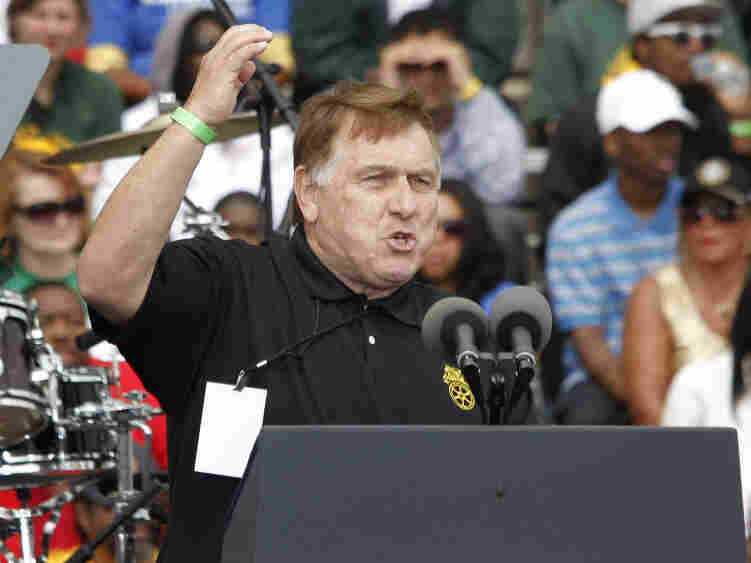 Bill Pugliano/Getty Images
As he warmed up the crowd for President Obama on Monday in Detroit, Teamsters Union leader James Hoffa declared that the Tea Party is waging war on workers.
And he pledged to the president that unions are "your army. We are ready to march. And President Obama, we want one thing: jobs, jobs, jobs, jobs, jobs, jobs, jobs, jobs. That's what we're going to tell him [Obama]. ... When he sees what we're doing here, he will be inspired. But he needs help. And you know what? Everybody here's got a vote. If we go back and we keep the eye on the prize. Let's take these sons of bitches out and give America back to America where we belong!"
That last sentence and the reference to "sons of bitches" has some in the Tea Party movement calling on the president to condemn such language.
The president didn't mention Hoffa's hot words when he took the stage. And so far, as ABC News' Political Punch blog reports, the White House has declined to comment.
Update at 3:35 p.m. ET: White House spokesman Jay Carney was just asked about Hoffa's comments. The president, he said, "wasn't on stage ... didn't speak for another 20 minutes. ... He didn't hear it." Carney did not call for Hoffa to apologize and did not comment on the appropriateness of Hoffa's remarks. So if someone at a Republican presidential candidate's event uses similar language will the White House resist calling for condemnation? Carney would not comment on whether that's now the standard that the White House and Obama campaign have set. Or original post now resumes.
On Fox News today, Rep. Debbie Wasserman Schultz of Florida (who chairs the Democratic National Committee), didn't directly address Hoffa's comments, Politico says:
" 'My official response is that we need to make sure that we focus on the middle class and working families and that we bring everyone in this country together from both sides of the aisle to focus like a laser on continuing to get this economy turned around,' she said. 'That should be our priority. That's the priority of President Obama.' "
Wasserman Schultz also asked Fox News' Gretchen Carlson "how many times have you called out coarse language at Tea Party rallies? Almost never."
Hoffa, meanwhile, tells Talking Points Media that he has no regrets and would say it all again.
ABC News has a video clip of Hoffa's comments. Watch and judge for yourself.
And here's a question:
Note: That's just a question, not a scientific survey designed to gauge public opinion.