Saleh Returns And For Yemen, 'Next 24 Hours Will Be Decisive'
Steve Inskeep speaks with journalist Tom Finn
More than three months after being seriously injured in a rocket attack and then going to Saudi Arabia for treatment, President Ali Abdullah Saleh made a surprise return to Yemen today.
On Morning Edition earlier today, freelance journalist Tom Finn (who is in Yemen) told host Steve Inskeep that the next 24 hours "will be decisive" for the country.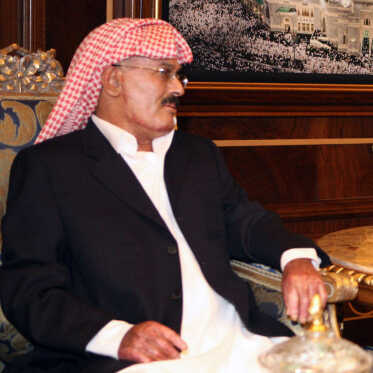 Saleh is "due to meet with his ruling party within the next couple of hours," Finn said, "but we don't even know whether or not he'll be discussing resignation options. ... All we know is he's in the country. ... It's clear he's here, but it's still very unclear what his motives are or what's going to happen next. ... If he doesn't at least make some indicator of what his plans are, then the level of uncertainty is very likely to promote more violence here."
The Associated Press adds that:
"Yemen slipped deeper into chaos during [Saleh's] absence, even as the United States and Saudi Arabia pushed him to hand over power. The worst violence yet erupted this week with battles between Saleh loyalists and his armed opponents that have so far killed around 100 people, mostly protesters in Sanaa.

"The elite Republican Guards, led by Saleh's son Ahmed, have been engaged in street battles and exchanges of shelling over the city with army units that defected to the opposition and tribal fighters who support the protesters."
As NPR's Dina Temple-Raston and others have reported in recent months, not only is Yemen the scene of deadly violence against those who want to see Saleh step aside, it is also home to "the most potentially dangerous branch of [al-Qaida] taking aim at the U.S." And the unrest there threatens to make it even more of a safe haven for the terrorist network.
Update at 7:50 a.m. ET: The AP just reported that Saleh "has called for a cease-fire after returning to the country, saying the only way out of the crisis is through negotiations. The statement from Saleh's office was the first message since his surprise return on Friday to the country from Saudi Arabia."