Update: Joe Paterno Has Died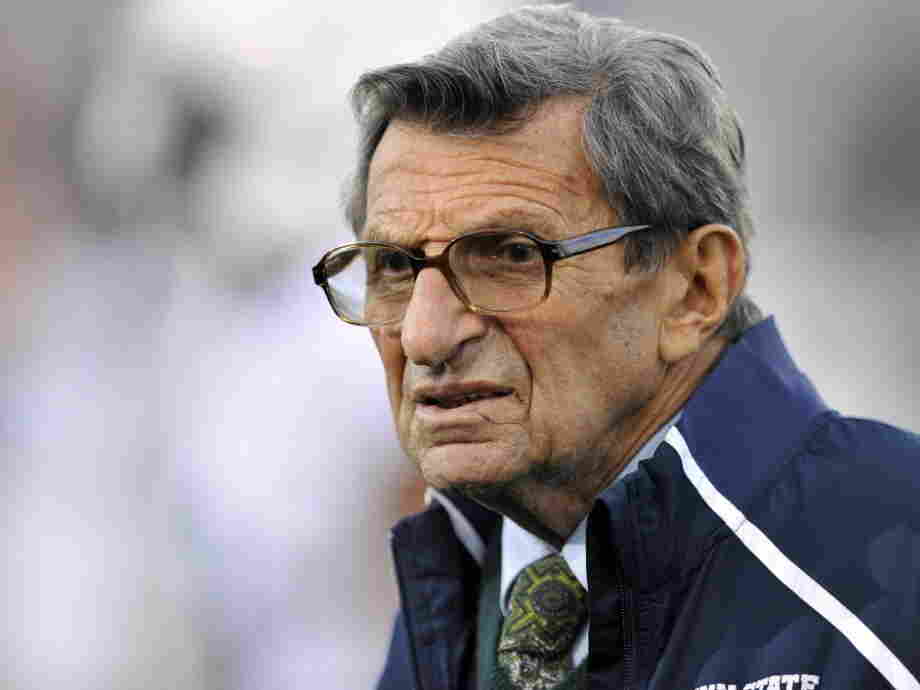 Update at 11:10 a.m. ET, Jan. 22. Paterno Died Today:
The family of legendary former Penn State football coach Joe Paterno has released a statement saying he died this morning, after a battle with lung cancer.
There's more here and NPR.org will be following the story through the day. We'll have more on Monday.
Our original post, from Saturday evening, and earlier updates:
"Legendary former Penn State football coach Joe Paterno is gravely ill and his family is rushing to State College to be by his side, his family has confirmed," Harrisburg's The Patriot-News is reporting.
The newspaper's headline says Paterno is "nearing death."
NPR has not independently confirmed just how serious Paterno's condition is.
Paterno, 85, has lung cancer. He won more games than any other Division I football coach in history before being dismissed in November in the wake of the scandal involving a former assistant who is accused of sexually abusing young boys for more than a decade. Paterno was fired because of a grand jury report that said he had informed school officials about an alleged incident involving the former assistant, Jerry Sandusky, but had not followed through or otherwise alerted authorities.
We'll update this post as the story develops.
Update at 10:30 p.m. ET. No Further Word Just Yet:
We're going to have to shut down for the evening. The overnight staff at NPR.org will be watching for any changes in the news about Paterno, and The Patriot-News (which has been ahead of other outlets on the Penn State scandal story) will also surely be keeping an eye on it. You might also watch the Twitter pages of Paterno's sons Scott and Jay, and the website of the student-run Daily Collegian.
Update at 9:50 p.m. ET. Another Son's Statement:
On his Twitter page, Scott Paterno says "Dad is alive but in serious condition. We continue to ask for your prayers and privacy during this time."
Update at 9:30 p.m. ET. A Son Says Paterno Is "Continuing To Fight":
Jay Paterno has posted this on his Twitter page — "I appreciate the support & prayers. Joe is continuing to fight."
Update at 9:15 p.m. ET. "Absolutely Not True" He Has Died:
Paterno spokesman Dan McGinn has told The New York Times that reports claiming Paterno has died are "absolutely not true," The Patriot-News now says.
Update at 9 p.m. ET: Students and others are gathering in State College, according to Onward State, the school's "online news organization."