Soccer: Tahiti Loses, 10-0, And Keeps Celebrating In Brazil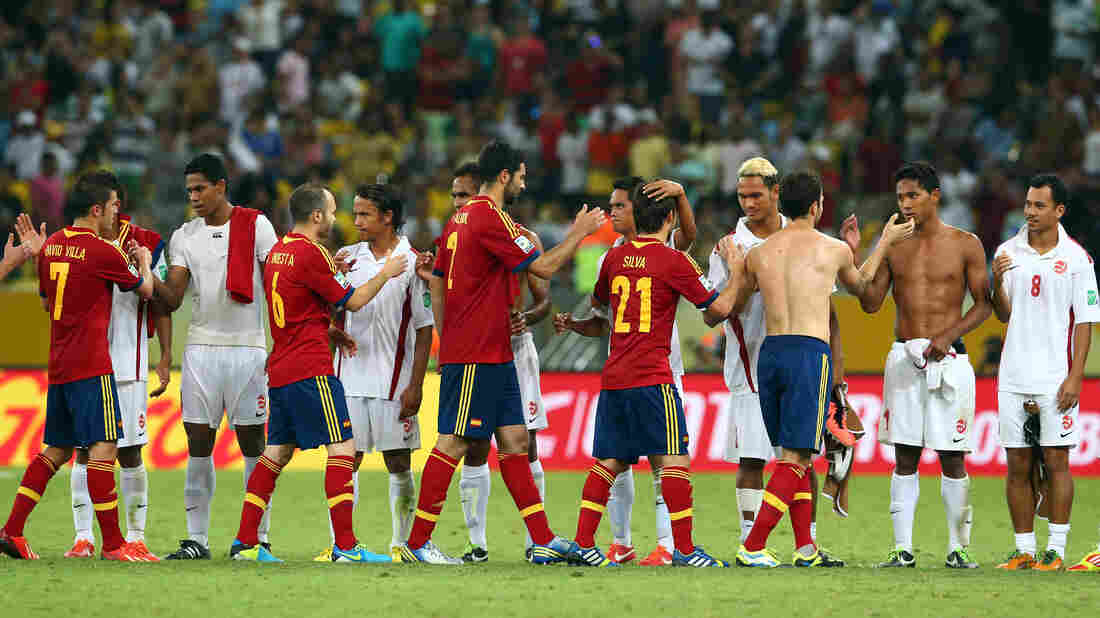 Ronald Martinez/Getty Images
There were no miracles for Tahiti at the Confederations Cup Thursday. After all, they were facing Spain, currently the No. 1 soccer team in the world. But even a stark 10-0 loss, a record result this late in a FIFA tournament, didn't dampen the enthusiasm the Tahitians have brought to Brazil.
The game was played in a stadium that held a crowd reported at 71,000 people — equal to a bit more than a quarter of the total population of Tahiti, which different estimates place at between 267,000 and 277,000.
The team from Tahiti, nearly all of them amateur players who live on the French territory's islands, made headlines earlier this week simply by scoring a single goal. That strike came against Nigeria, and it sparked a celebration in which its players lined up on the turf and pretended to row a boat together.
In that game, Tahiti lost to Nigeria handily, 6-1. But that lone goal fulfilled the mission of the Toa Aito, as the team is called (it translates to Great Warriors).
Tahitian striker Marama Vahirua, who plays in France for Nancy, is the only professional player on the squad, which also includes several promising young players. He recently said that scoring one goal in Brazil is the highest aspiration for his team.
"A goal for us, it will be a victory in the competition, no matter who scores," he said, according to Tahiti News. "I did not come here to have fun but to defend the colors of Tahiti and French football. If we can at least score a goal."
And when they achieved that goal, the team's celebration solidified its status as the darlings of this tournament, where fans chant for Tahiti and boo teams from Spain and Nigeria. Ranked No. 138 in the world, Tahiti is one of eight teams competing in Brazil, alongside such elite squads as Italy and the host country itself.
"Wow, we are in Brazil to play the best teams in the world," Tahiti coach Eddy Etaeta, according to The New York Times, which also notes that the coach shook his head as he made the comment.
Tahiti punched its ticket to the Confederations Cup last year, with a surprising win at the continental Oceania tournament played in the Solomon Islands — the first by a Pacific Islands nation in the competition's 39 years.
"We are honest," Etaeta said before the Nigeria game. "Tahiti has not come to win." He said the team would like to score a goal in a game, "or maybe get to halftime at 0-0."
Before Thursday's game, Tahiti's players walked up to their Spanish opponents holding gifts. They carefully placed necklaces made of shells around the Spaniards' necks, and then waited for the game to start.
In the game, Spanish stars Fernando Torres and David Villa together scored seven goals. But the Tahiti team showed resolve, possessing the ball 38 percent of the time. And after the game's first 30 minutes, Tahiti only trailed by 1-0.
Afterwards, the Spanish players said they were impressed with how their opponents handled the game.
Here's this from Reuters:
"Often inferior teams look to break up the game and get aggressive, they play without spirit or hope. Standards aside, Tahiti showed a great example of how to go about playing football," Torres told Spain's Telecinco television after a record Confederations Cup victory.

"We have tried to show them respect in every sense. We tried to play well, to play simple football, and to score goals and these goals will be important for the next stage."
After the game was over, Tahiti's players led cheers to thank the crowd, then they lined up to shake hands with the Spanish players, and trade jerseys.
With only one more game left in group play — against Uruguay — it's unlikely Tahiti will win in Brazil. But the Tahitians are there. And they've scored.