Wait Wait Carnegie Debut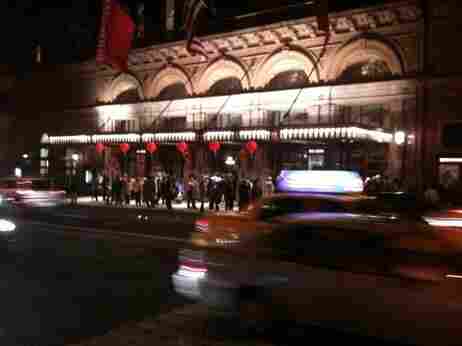 Last week, Wait Wait stood where Bernstein, Stokowski, and Tchiakovsky themselves once commanded the stage. Of course, we had the good sense to wait until they were dead before we tried it. Stokowski in particular was not known for a sense of humor and would have hit us with his baton.
For our New York City debut at Carnegie Hall, Carl Kasell, Mo Rocca, Adam Felber and Paula Poundstone and myself wore black tie, along with silk underwear, because Carl insisted it has powerful acoustic properties. Even Doug "Not a Slave to Fashion" Berman put on a jacket and a t-shirt with a picture of a tie on it. It was a memorable night - Carl, the Songbird of NPR, did a memorable rendition of the first lines of "I Feel Pretty" — he only knows the first line — and special guest Brian Williams proved he's the funniest network news anchor since Chet Huntley retired his famous Mime Correspondent routine.
Our thanks to Mr. Williams, WNYC, and the 2600 fans who filled the place to the rafters. And a special thank you to the two young ladies who waited outside the stage door for an hour or more to get everybody's autograph. When we tell this story, and we will, there will be twenty of you, and eight of you will be Kate Hudson.