We Eat The KFC Double Down And Live To Tell About It (But It's Only Been 15 Minutes)
Sandwich Monday on WWDBM continues. We just sat down with the already legendary KFC Double Down sandwich, which is basically a bacon sandwich with fried chicken in place of the bread.
12:39: Eva: I need a fork.
12:39: Lorna: It's spicy.
12:40: Ian: It's really a triumph of nature. When they're alive, a chicken never gets to have a pork inside of it.
Much, much, way too much more after the jump.
12:40: Peter: This is not as repulsive as I thought it would be.
12:41: Mike: I worry about the future of bread.
12:41: Eva: Yeah, this is the end of bread.
12:42: Lorna: What's the point of this?
12:42: Mike: The website says people complained they didn't have enough chicken in their chicken sandwich.
12:43: Eva: This is a big "screw you" to the people who complained.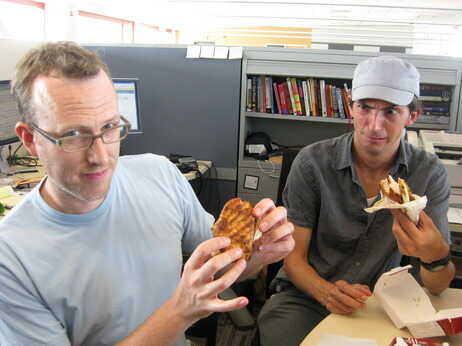 12:45: Ian: It's hard to taste the stuff in the middle. Chicken is stronger than bread.
12:45: Mike: Chicken is stronger than everything.
12:46: Eva: Can we admit it's good?
12:46: Peter: If I was going to kill myself with eating, this wouldn't be a bad way to go.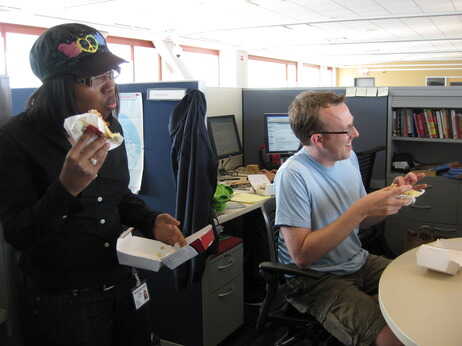 12:46: Shantell: It's lonely without the bread. It's a lonely sandwich.
12:46: Mike: Yeah, I'm nostalgic for bread.
12:46: Ian: Do you remember the days when sandwiches were made with bread, not chicken?
12:47: Mike: Seriously, this is rewriting the rules of lunch. And of sandwiches. We're going to replace peanut butter and jelly with chicken and chicken.
12:48: Ian: Right, from now on, the word "sandwich" just means "stack of chicken."
12:51: Brian: This sandwich is an Al Qaeda plot.
12:51: Mike: This is a Last Days type of thing, right? Didn't the Romans reveal a Double Down before they fell?
12:51: Ian: I shouldn't be typing while eating this. My keyboard is really shiny.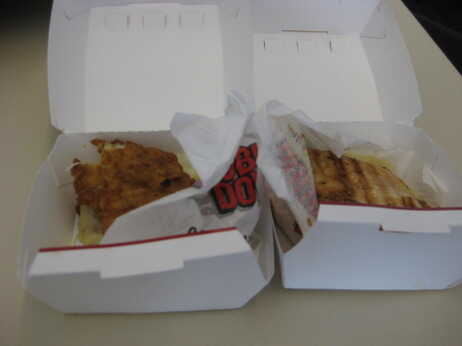 12:53: Ian: It's funny, after the fried one, you feel like the grilled one is Healthy. But it's still cheese and bacon surrounded by chicken.
12:55: Emily: I think I just ate my dinner.
12:55: Mike: I think I just ate everyone's dinner.