Sandwich Monday: The Shumwich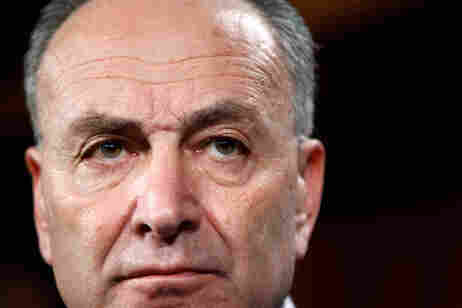 There's a saying in Washington DC that the most dangerous place to be is between Sen. Chuck Schumer and a camera. Not true: it's apparently far more dangerous to be between Sen. Schumer and his sandwich:
Sen. Chuck Schumer, D-N.Y., sometimes gets prickly over pickles.
The senator apparently gives aides grief if his trademark sandwich, nicknamed the "Schumwich," is not ordered correctly, according to a report in the New York Post.
Staffers are told to ask for extra pickles only after a layer of pickles is applied to ensure there are "extra" enough. According to the Post, the "Schumwich" consists of roast beef, banana peppers, pickled jalapenos, extra onions, extra tomatoes, two layers of pickles, mustard and mayonnaise.
Want one? You can buy your very own at a Subway for about $6.75.
This made us wonder: if there were sandwiches named for us, officially or not, what would they be? The "Carl Kasell" would be something like a peanut butter and jelly on Wonder Bread: sweet, smooth, and not at all crusty.
We accept your nominations for WWDTM Sandwiches in comments.