Sandwich Monday: The Mighty Jibarito
Long before Colonel Sanders replaced bread with fried chicken, a man who had no bread but a whole lot of bad judgment did the same thing with deep-fried plantains. He sandwiched them around steak, American cheese, and an obscene amount of mayonnaise, and the jibarito was born. Some say this happened in Puerto Rico, some say at Borinquen Restaurant in Chicago. Wherever its origin, let's just agree the inventor should be worshipped as a God.
I ordered one with roast pork. Girlfriend Nora went with the vegetarian. Here's how that went:
Nora: "I'll have the vegetarian jibarito."
Waiter: "One steak jibarito, coming up."
Nora: "No, vegetarian."
Waiter: "What?"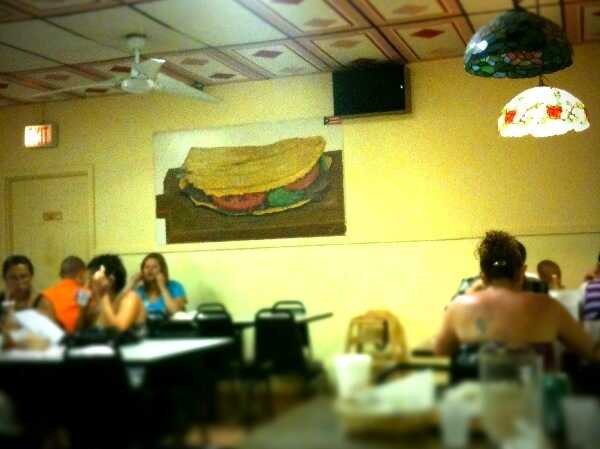 When you go to a restaurant, sometimes it can be hard to decide what to order. Here's a rule: if a restaurant has an oil painting of one of their sandwiches on the wall, you should order that sandwich.
Nora: It took a special kind of culinary genius to come up with this. Who sees a plantain, and thinks, you know what, that'd be better with pork and mayonnaise?
Ian: If you're a banana, and you want to disappoint your parents, this is the life you choose.
Ian: So the vegetarian sandwich is just the regular sandwich without the regular stuff?
Nora: I think they replaced some of the meat with more mayonnaise.
We also ordered mofongo, which is a mashed plantain ball with bits of garlic and pork cracklings. Delicious, yes, but sort of like having an already digested version of your sandwich right next to your sandwich.
We ride our bikes home, and both of us find our hands are slippery on the handlebars. "Ah, mayonnaise," Nora says. "Nature's moisturizer."
I think for a second that the bike ride will help work off the meal. But we would have to ride all the way to Puerto Rico to burn all the calories, and I would almost certainly end up eating another jibarito when I got there.