Fashion Police: Happy Bastille Day!
It's Bastille Day in France and President Nicolas Sarkozy threw a heck of a party on the streets of Paris, inviting dignitaries and other world leaders, and they all invited their biggest hats and hairdos. The WWDBM fashion police weigh in.
Mike: She's trying to fool the guillotine with that hat.
Peter: She represents another faction of the French peasantry during Revolutionary times, the "sans gouts," or "those without taste."
Eva: I know. That hat is sooo pre-revolutionary.
Ian: You feel bad for that guy still hoping his policeman's cap will win the Bastille Day Wackiest Hat contest.
Ian: What's he doing? Oh, he's preparing to present Cameroon's president with the ceremonial Invisible Baguette.
Peter:"C'est vrai, I am about this tall."
Eva: Carla begged him not to do his 'Fonzie.'
Peter: He's saying to her, "Je represenete la Guilde du Lollipop."
Eva: I don't know why he has to make such a performance of 'bending over' to kiss her hand -- seems unnecessary.
Mike: Without his step ladder, he can't reach the cheeks and must settle for the hand.
Ian: Weirdly, the French first lady was the only first lady he didn't french.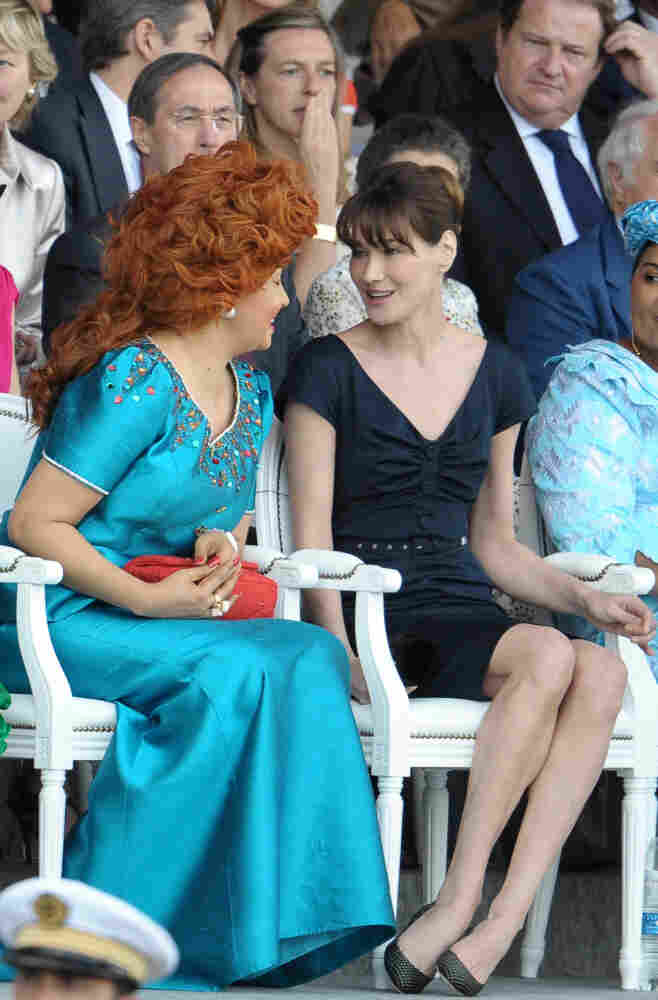 Mike: Once a year the Royal Mullet is allowed to greet the public.
Ian: Was that lady the inspiration for Toad in Super Mario Bros? Maybe she can get Sarkozy one of those mushrooms to make him taller.
Eva: Shouldn't Carla be the one who gets to play Marie Antoinette today?