Sandwich Monday: The Mighty Horseshoe
Nearly a century ago, in the town of Springfield, Illinois, the Horseshoe Sandwich was born. That's two thick slices of toast, topped with ham, Welsh rarebit cheese sauce, and a bucket of french fries. Chef Joe Schweska, who created it, thought the ham looked like a horseshoe and the french fries like the nails used to drive it in. Joe was good at inventing sandwiches, but bad at naming things.
We got our Horseshoe Sandwiches at Six Degrees in Chicago, and our waiter was an actual Springfieldian. She recommended we get one with a hamburger in place of ham, so that's what we did.
Mike: This doesn't look like a sandwich. It looks like what landed on the floor when somebody knocked over a nerd's lunch in the school cafeteria.
Peter: It looks like they're trying to cover a mistake.
Eva: It looks like a trap.
Ian: It looks like the nest where the fattest bird in the jungle lays her eggs.
Ian: When I think about what I'm eating, the first word should never be "horse." Unless it's "horse, come and let Ian ride you to the Denny's."
Mike: The second word should never be "shoe."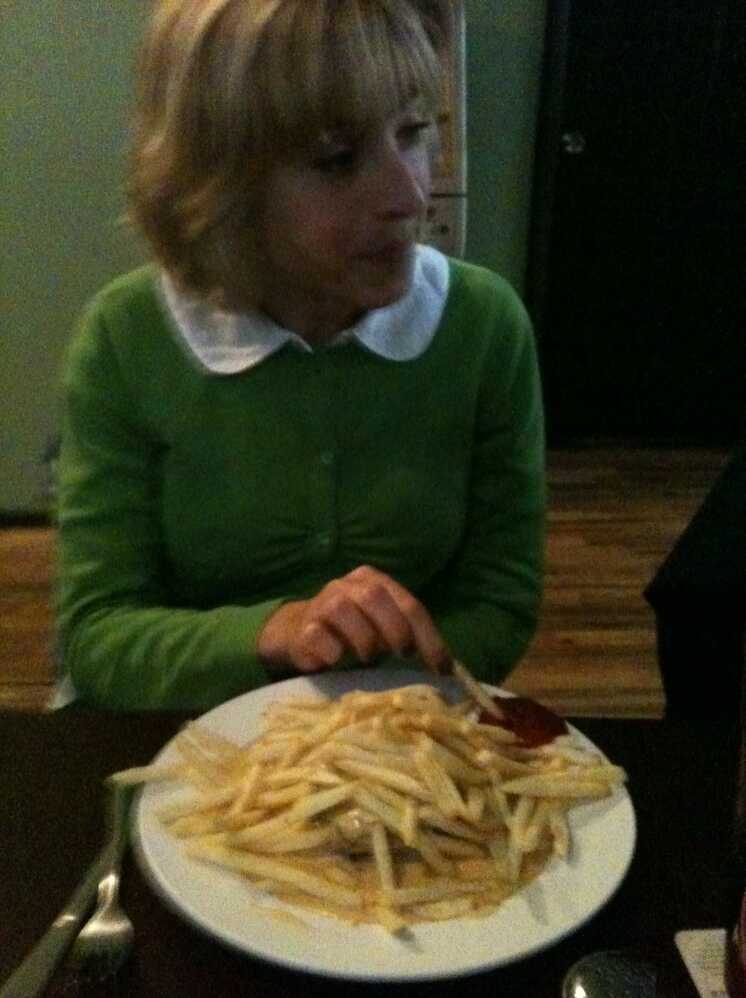 Emily: Look at it. It'd make a really bad actual horseshoe.
Ian: When french fries are on the sandwich, what do you eat as a side dish?
Peter: Impossible. The gravity of this sandwich would draw anything around it in.
Peter: It's like they got all the ingredients for lunch from Ikea, but they didn't have the instructions to assemble it properly.
Ian: At Ikea these are made with Lingonberries and they're called Hoorsfaats.