Just Because You're Falling Off Your Bike Doesn't Mean You Can't Look Great
Ever since my bicycle accident this summer, I have been religious about wearing my helmet whenever I'm even near a bicycle, which means I'm resigned to looking like a dork. (It doesn't help that I also ride a 40 year old British 3 speed around my suburb, and sometimes tuck my pants leg into my sock.) Is there a better way? Something more fashionable? Something more... dare I say... pneumatic?   Yes.
There seem to be two disadvantages to the Hovding Krocktest (I know it's not called that, but in my world, it is.) First, instead of a silly looking helmet, you have to wear a bizarrely thick collar, making you look like (in my mind) Davros, mad scientist creator of the Daleks.*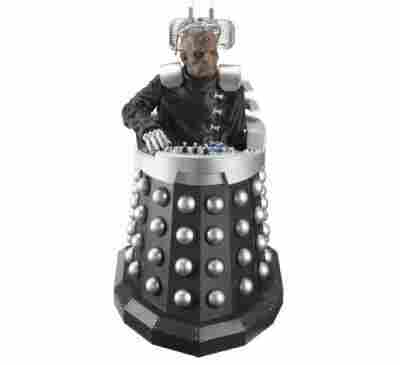 That's probably not fair.   However, there is the danger of sudden movements made while wearing the collar, off-bike, triggering the airbag. What if you're on a hot date, and the time has come to swoop in for the kiss? What if you're playing a competitive game of bobbing for apples? What if you're bowing to the queen? What if you're bobbing for apples with the queen?   I think I'll wait until they invent a harder head.
*[Ed. note: This is some kind of Dr.Who reference, right? Can someone design a helmet that protects all parts of Peter's brain except the part that makes Dr.Who references?]