Sandwich Monday: The Kevin Butler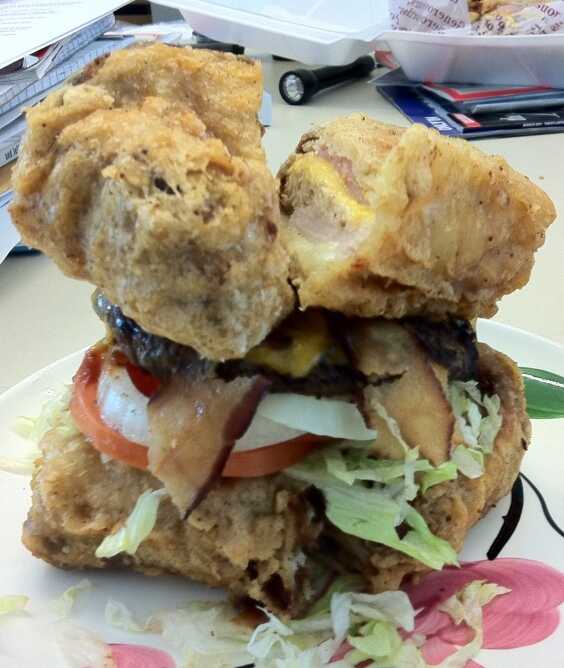 We all know the classic fictional sandwiches: the unicorn melt, the möbius five dollar footlong (it's technically more of a wrap). But there are also nonfictional sandwiches invented by fictional characters, and that's what we're trying today. Kevin Butler, the man, is the guy in the PS3 ads. And the Kevin Butler sandwich is a bacon double cheeseburger on two deep-fried monte cristo sandwiches.
Mike: You really have to compress it to get it into your mouth.
Peter: Mike, you squeezed it so hard you made a Meat Diamond.
Peter: So this was invented by a video game guy?
Mike: Yeah, I think if you eat it you get an extra life.
Ian: It's like that mushroom Mario eats that doesn't so much make him Super as Fatter.
Peter: It's like eating the song "Old MacDonald Had A Farm."
Mike: Or the gospel song "All God's Creatures Got A Place In My Belly."
Ian: Seriously, this sandwich is like a myth people have about America. "In America, the streets are lined with gold and the sandwiches are made with sandwiches!"
Ian: David Blaine should try and eat this for his next stunt.
Peter: I think you have to do it starfish style, and remove your stomach from your body and let it eat the sandwich.
Ian: Eva, you look so small next to that sandwich.
Mike: The KFC Double Down is to Barry Bonds in 1987 as the Kevin Butler is to Barry Bonds in 2005.
Eva: In the future, there will be two competing theories about what caused human extinction. Some will say it was an asteroid, others will say it was this sandwich.
[The verdict: this is, we think, the most extreme sandwich we've yet eaten. It is undeniably delicious—you can't put that many lipids together and not make something tasty—but it is difficult to eat. For more on the origins of this sandwich, click this.]