Sandwich Monday: The Three Little Piggy Sandwich
The Three Little Piggy sandwich is so named because it has three variations of pork: double smoked ham, a breaded pork tenderloin, and bacon. Also, it has cheddar or gruyere cheese, an onion ring, and a fried egg. They make you choose your cheese because they don't want to overdo it. They include the onion ring because every sandwich needs a vegetable. And they put "Little" in the title because it's the last time you're going to have anything to do with that word for a long time.
My girlfriend Nora and I joined the Sagal clan (Peter plus wife Beth and three daughters) at the Silver Palm in Chicago to try it out.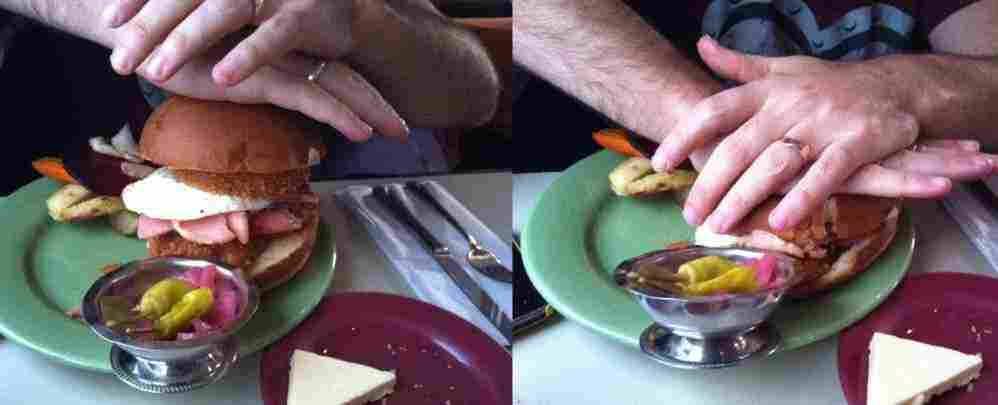 The waiter told us, "put the halves together, then compress until the egg yolk breaks." The Three Little Piggy Sandwich from Silver Palm in Chicago is the first sandwich I've ever had that comes with instructions, unless you count the Meatflurb from Ikea, which requires an Allen Wrench to assemble.
Anthony Bourdain said of the sandwich:
"This is a work of genius, in an evil way.... A two-fisted symphony of pork, cheese, fat, and starch... that sandwich is the greatest sandwich in America."
Peter's daughters said of the sandwich:
"Meaty."
"Ridiculous."
"I don't want to eat that."
Peter: The egg is like the One Ring... it brings them all and in the darkness binds them.
Ian: Yeah, the yolk is basically Pork Spackle.
Peter: This sandwich really has something special.
Ian: I know. I count three types of ham but at least nine types of delicious.
Nora: So, if this is the three little piggy sandwich, that makes you the wolf.
Ian: Yeah. But not in a hot, Team Jacob kind of way. I'm going to end up being one of the lesser known fat werewolves.
Nora: The easily-smashed soft bread is key to the success of this sandwich.
Ian: But it turns out that even worse than the Straw House or the Sticks House, the Bread House was a really poor place for the pigs to hide.
Peter: The only children's story with an unhealthier sandwich than the Three Little Pigs is Snow White, because, you know, poison apple.
Beth: What about Dinosaur Bob? Who doesn't love Dinosaur Meat?
Ian: It is expensive though.
Beth: They probably have it at Whole Foods.
[The verdict: come to Chicago and get this sandwich. Somehow, despite its many ridiculous components and sheer volume, each element has an important role and is allowed to shine through. This sandwich is worth the year off your life it will take.]
[UPDATE: Peter informed me I misquoted him re: the One Ring. So I fixed it.]