Sandwich Monday: The Bacon Bomb
I know, it's not a sandwich. It's a little outside our jurisdiction. But the Bacon Bomb doesn't fit into any other known food category, so we're just going to say it's as much a sandwich as it is anything else. Here's how the evil geniuses at Paddy Longs in Chicago describe it:
The Bacon Bomb is five pounds of ground sausage, pork and beef mixed with spices and wrapped in a weave of brown sugar bacon, and then slow cooked on our pig roaster.
Mike: It's adorable. Reminds me of when my son was born.
Eva: Did he also come wrapped in foil?
Mike: This is the vessel Kevin Bacon arrived in from his home planet.
Eva: It looks like an old football. "Pigskin" is a much more delicious term than most people realize.
Ian: It's like someone made some bacon, felt bad about it, and tried to put the pig back together.
Peter: I was amazed they let me walk out of there with this.
Mike: Yeah, they used to have a 7 day waiting period.
Ian: They still have an 11 day digestion period.
Ian: If you came home and found your kid making one of these, you'd think, "yep, that boy's gonna be a serial killer."
Mike: It rubs the spices on its skin.
Eva: Seems like a food from the days of Henry VIII.
Peter: Back then they called it "Latticed Hog."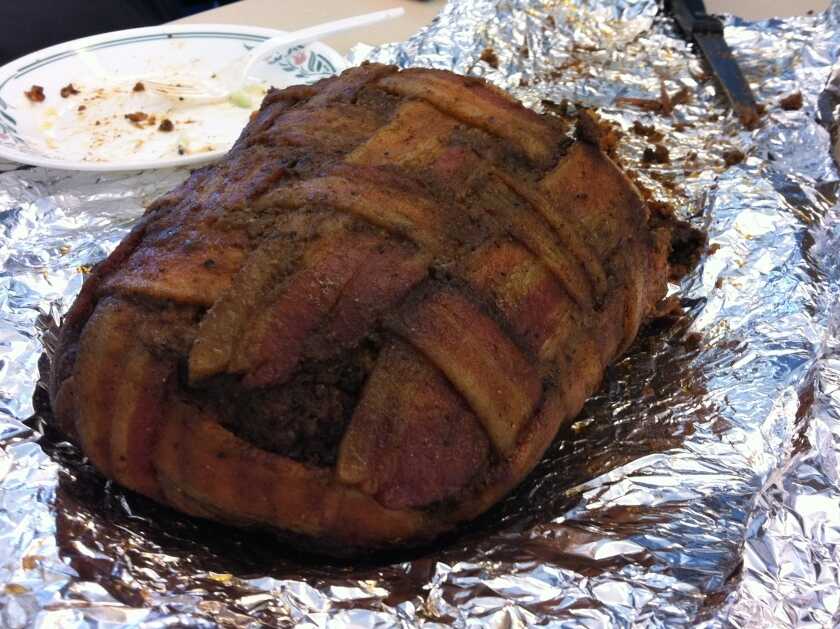 Eva: It looks like an old woven sandal.
Ian: Yeah, back in the day you were nobody if you didn't have a pair of Porkenstocks.
[The verdict: it is really something to behold. As far as it tastes, though, we had a rare split decision. Peter and I were both really impressed. You look at this, you think it's just going to be a big, fatty blob, but then you bite into it and it's got a nice complex flavor with a pleasant kick. Mike and Eva both thought it tasted like a big, fatty blob.]