Sandwich Monday: The Matzo Elvis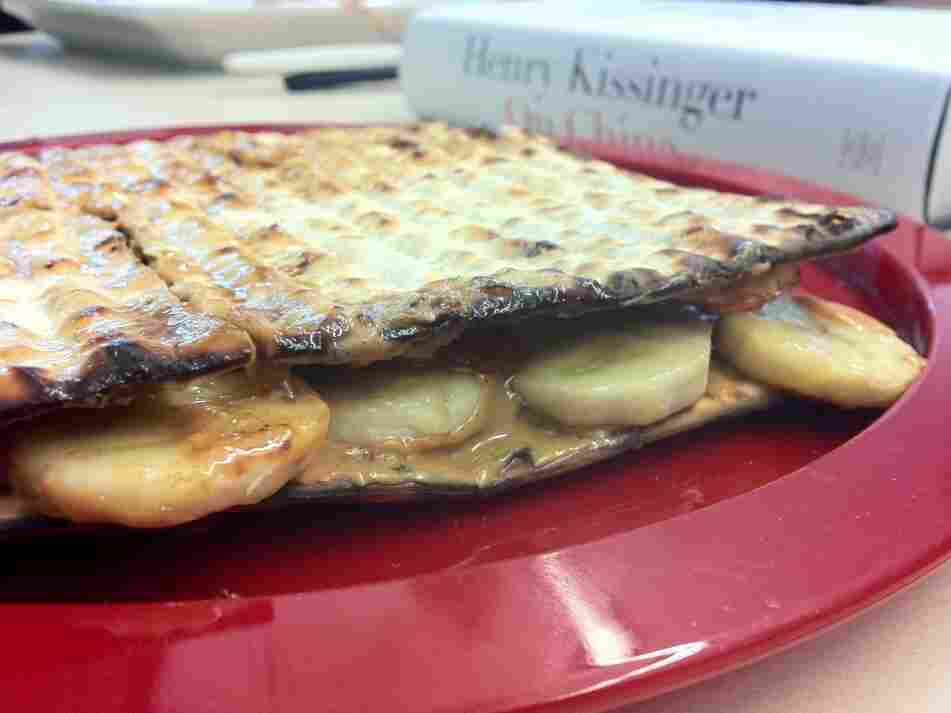 Since early last week, Jews the world over have been eating matzo to celebrate the holiday of Passover, commemorating the Exodus of ancient Israelites from slavery in Egypt. Egypt didn't have any decent carryout places at the time, so the Jews had to pack dry, tasteless crackers that disintegrate into a million crumbs as soon as you bite into them. In modern times, by the end of this week-long festival, people are desperate to find ways to use up their leftover matzo, especially if their roofs are not in need of any replacement shingles.
We found an intriguing recipe on the Internet, creating a classic Elvis sandwich (peanut butter, honey and banana with bacon) using matzo in place of white bread. As Passover draws to a close, we decided to try one.
Ian: Just as Moses led the Jews out of Egypt, this sandwich led the skinny Elvis into being the fat Elvis.
Peter: Evidence Elvis was a secret Jew? One, he loved his mother. Two, this sandwich. Evidence he was not a Jew? Everything else he ever did.
Ian: This sandwich is acting Jewish, but it's not. In that way, it's like Madonna.
Peter: It looks like the food in the bottom of the trash can that's been crushed by all the other trash. Tasty, though.
Robert: It really has a nice balance. Matzo has no fat, salt or taste. And bacon is bacon.
Robert: You know, matzo is the bread of affliction.
Ian: The affliction in this case being heart disease.
Robert: When Elvis was a teenager in Memphis he was a Shabbos Goy, a non-Jew who helped out observant Jews who are forbidden engaging in any kind of work on the Sabbath. Presumably he would have been instrumental in slicing the bananas.
Mike: In this case, the bacon is the Shabbos Goy. It performs the role of being delicious since the matzo is forbidden.
Eva: Hiding something so delicious in something so undelicious is like hiding your comic book inside a math book.
Ian: It's basically trayf in camo.
Mike: Did you use Jif peanut butter? You know, Jewsy mothers Jews Jif.
[The verdict: This sandwich proves the theory that everything tastes better with bacon on it. And in one of the most unnecessary notes in Internet history, the author of the recipe feels the need to point out that if you include the bacon, the sandwich is no longer kosher or vegetarian.]