Sandwich Monday: Chicken Rings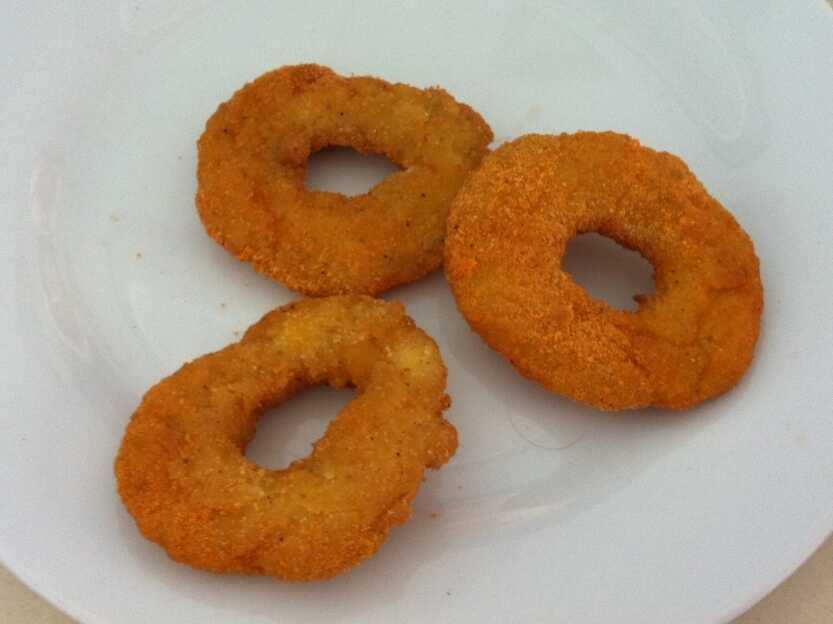 The optimist in me says the White Castle "Chicken Ring" is just a Chicken McNugget with all the unhealthy stuff poked out the middle. The pessimist in me realizes it is just one of the wheels on the ambulance that is taking us all to the hospital.
This is a sandwich by Robert's Law: A sandwich is protein surrounded by bread product. We considered threading a hot dog through 8-10 of these to make sure we had a sandwich here, but read on, and ask yourself: didn't we suffer enough?
Ian: Ooh! If I look through it I can see all of you as your future fat selves!
Eva: This is good because if you catch one in your throat you can still breathe through the hole.
Blythe: How long do you think before the first proposal using a chicken ring?
Ian: For richer or poorer, in sickness and in sickness.
Robert: Is this how you tell the age of a chicken? Counting the rings?
Ian: I keep wanting to say "chicken wing." It's like a Will Shortz puzzle. "Take an 11-letter phrase for a food, change the 'w' to an 'r,' so that it becomes something that is not food."
Peter: These look like the medical devices you'll need if you continue to eat them.
Eva: If there are chicken rings, are there chicken holes? Munchickens?
Mike: I'm just glad to see chefs finally found a use for the chicken sphincter.
[The verdict: Unsettlingly tasty. It tastes like a chicken nugget, but you don't want to think about the machine that made these. Or the genetic splicing that took place to combine squid and chicken to make chicken calamari.]