Sandwich Monday: The Marmite Sandwich
Our big BBC America "Wait, Wait" special is airing December 23, and this sentence may seem like nothing more than a shameless promo for our BBC America "Wait, Wait" special on December 23, especially because I'm linking to more information about our BBC America "Wait, Wait" special on December 23, but it's not. It's actually a way to introduce today's meal: the utterly British Marmite Sandwich.
Marmite, if you're not familiar, is dark brown yeast extract paste. Or to put it another way, [gagging sound].
Ian: I marmight not.
Eva: You have to.
Ian: Okay, I marwill.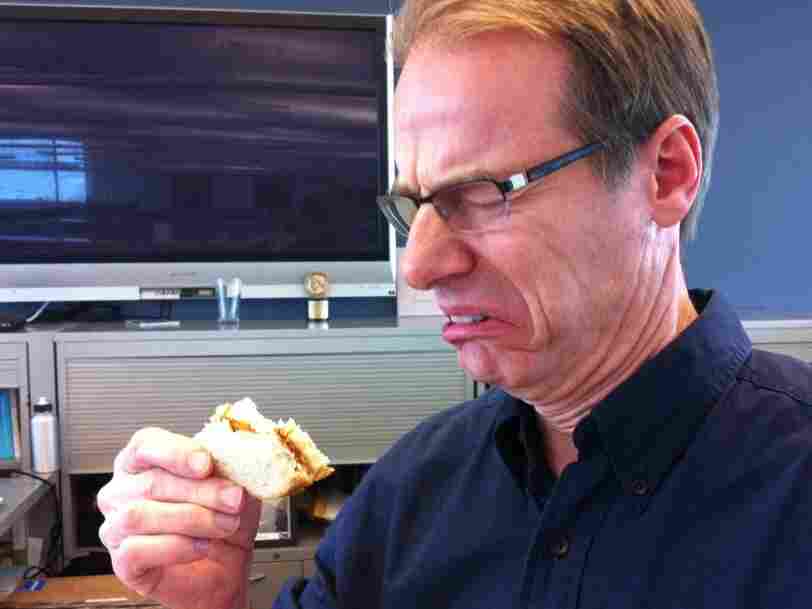 Ian: Can somebody rub my throat to help me swallow?
Mike: I just punched my mouth in the face.
Robert: Every meal I ever ate just flashed before my eyes.
Mike: It looks like prune jam or something.
Ian: Prune Jam is actually the name of my grandmother's grunge band.
Mike: Oh really what songs do they play?
Ian: Well, there's "Granddaughter."
Peter: It tastes of the fires of hell from which it came.
Mike: Marmite can only be unmade by hurling it back into the Crack Of Doom.
Peter: Yeah, I remember when Gimli tried to smash the jar with his axe, nothing happened except we all remembered what it tasted like.
[Ed note: I have no idea if these jokes are funny. If anybody out there speaks nerd and wants to fill us in, that'd be great.]
Ian: Just reading the label makes my eyes want to vomit.
Peter: It says here "Best Before 2027."
Mike: Oh, yeah, it's great served on jetpacks.
[The verdict: Don't. Eva, who grew up in London, says she likes Marmite. Which is either true or she's participating in an elaborate prank in which British people try to get American people to eat this poison.]