Sandwich Monday: The Pie McFlurry
We had it on good authority that McDonald's would blend a Hot Apple Pie into a McFlurry, if you asked them to. We sent our intern Kate to order one (this way no senior staff would be hurt in the event the combination was combustible). Our local McD's wouldn't do it — when your local McDonald's is more concerned about your personal welfare than you are, watch out — so we bought the components and made our own.
Spoiler alert: it was amazing.
Robert: This is just like Mom's Apple Pie a la mode, if your mom is too drunk to get the separate ingredients onto the plate.
Eva: Yeah. Until now the only thing stopping me from eating more apple pie was I had to chew it.
Ian: Amazing! The apple pie makes it up through the straw.
Eva: I wish whenever I drank anything an apple pie would come up through the straw.
Eva: Thanks to cup holders, now I can drink my apple pie while driving.
Kate: The aftertaste is chemical-y. Like the dentists office. Or normal McDonald's food.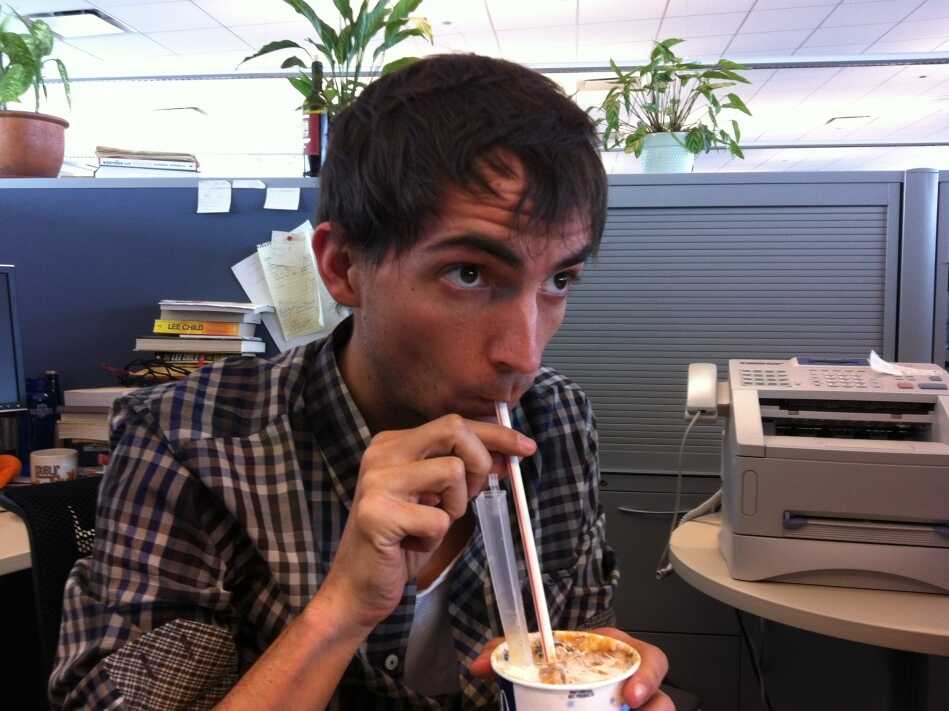 Mike: Nowadays, when people say something is "as American as apple pie," they just mean it's been drowned in a milkshake.
Robert: We could have had this much sooner if Johnny Appleseed hadn't been lactose intolerant.
Mike: Now we know why the McDonald's — "American Pie" movie tie-in never worked.
Peter: This is good because it combines 3 of the 4 major Horrible Things groups.
Ian: I just looked through the entire McDonald's menu in search of a food that wouldn't be improved with the addition of pie, and now my eyes are fat.
[The verdict: Surprisingly delicious. Really, it's just like the last little bits of apple pie a la mode left on your plate, now in an easily drinkable (which is not to say easily digestible) form. Worth the effort.]