Sandwich Monday: Pancakes & Sausage On A Stick
Breakfast is a great way to tide you over from Pre-Breakfast to Brunch, but it's not always portable. That's why Jimmy Dean invented the "Pancake & Sausage On A Stick." That, and he wanted to punish us.
Ian: It looks like the dipstick you use to check the sausage level in your engine.
Peter: These are great if you're on the go and your other arm is busy wiping your tears.
Ian: The "&" in the name is actually called an "ampersandwich."
Peter: Wouldn't you like to see somebody try a rhythmic gymnastics routine with a couple of these?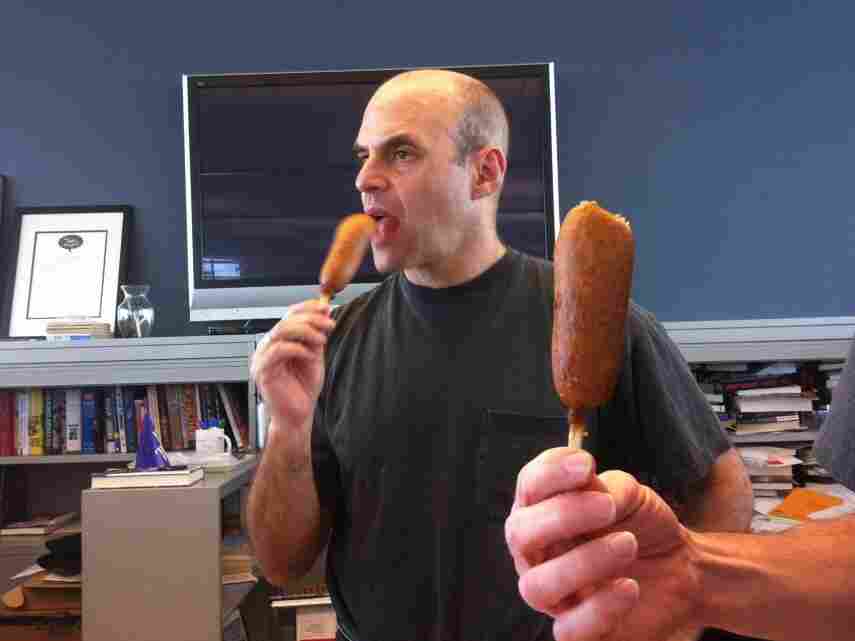 Eva: The only way to get any nutritional value out of this is to also eat the stick.
Mike: Or, when you finish, you can use the stick as a tongue depressor to prevent sausage-induced lockjaw.
Ian: If you and your date are trying to decide between sushi and sausage, you can get the sushi and use these as chopsticks. It's a great compromise because then everyone's unhappy.
Robert: These are also one of the few known methods to kill the dreaded vampire Count Fatula.
[The verdict: not so good. It is highly portable, but it has a taste and texture you don't want to take anywhere. Finally, a food corn dogs can look down on.]