Sandwich Monday: Doritos Locos Tacos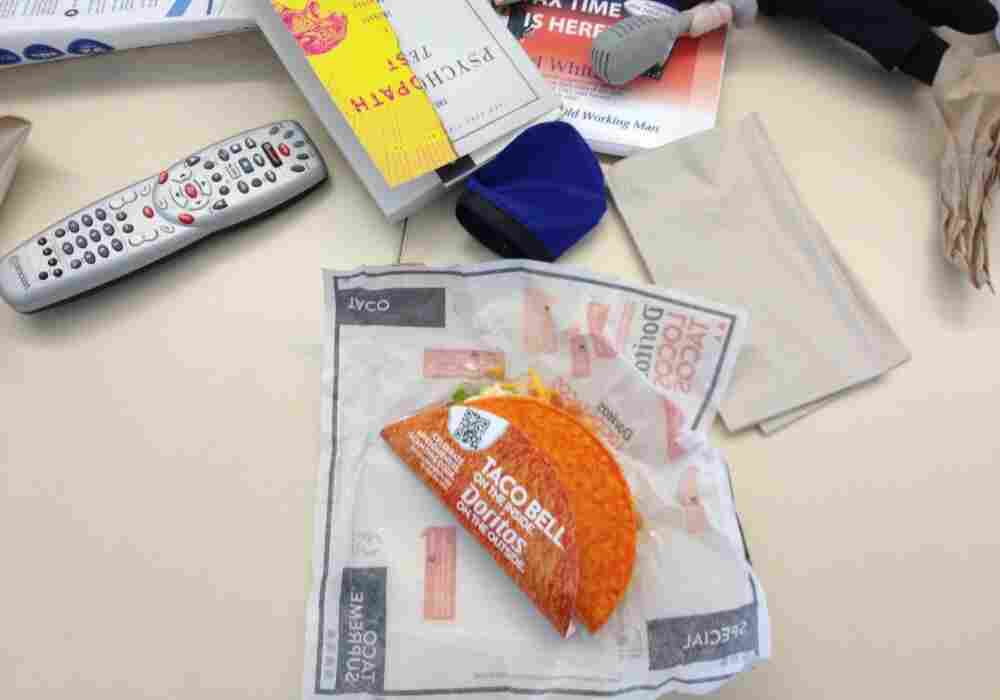 What is the noun is for the substance of which Doritos is made? We all know a Dorito is a triangular corn chip covered with orange flavor dust, but what is it made of? Is the essential substance of a Dorito "Dorito," or "Dorito Sheetrock ," or "highly processed fried corn meal infused with sugar, orange food dye, and glue?" Whatever it is, Taco Bell's new "Dorito Loco" comes in a taco shell made of it. We tried the Dorito Loco Supreme, which costs 30 cents more but you're worth it. (What do you get for that extra 30 cents? Thirty pennies added to each taco, for crunch.)
Mike: This is good.Like really good nachos!
Eva: Everything about this is disgusting, and I love it.
Peter: I don't like it. I open my mouth and take a breath before biting it, and get a lungful of powder. It's part taco, part asthma inhaler.
Eva: Dorito's orange powder: The fat man's cocaine.
Peter: Next time somebody thinks they've hit bottom, they should ask themselves, "Sure, I've lost my job and my spouse, but am I eating a Dorito Supreme? No? Then party on."
Eva: Just like with regular Doritos, you can't eat just one. Which must be why I just absent-mindedly ate 23 tacos.
Mike: This is the perfect combination of two things that are terrible for you. As if ammonia and hydrochloric acid, mixed together ,tasted like chocolate.
(Eva is offered another.)
Eva: No thanks. I ate the first one, but now I feel really bad about it.
Mike: Exactly. I'm trying to find an analogy, for something you do, but don't enjoy. It's like shooting Lenny at the end of "Of Mice and Men."
Peter: Think of the tacos, Lenny! Think of the Tacos!
[The verdict: If you like Doritos, in all their orangey glory, you will like these, but just a little while later you will regret everything you've done to lead you to that moment.]