Encore Week: Benjamin Clementine, Darlingside, The Jayhawks And More
This week, World Cafe rebroadcasts some of its best sessions from the last several months. Listen in for some conversations and performances that garnered a lot of interest when they originally aired.
Two newcomers performed extraordinary sets. Meet the British Mercury Prize winner Benjamin Clementine, who told stories of living and performing on the streets of Paris. Darlingside, a folk band from New England with perfect harmonies, is another discovery worth repeating.
Several sessions with veteran musicians also bear another listen. Among them is the performance Flamin' Groovies delivered in the World Cafe studio. You'll also hear from The Jayhawks, whose new album, Paging Mr. Proust, comes out April 29; the band previewed some of the new songs during our "Sense Of Place" visit to Minneapolis in December. And getting a chance to talk with Jeff Lynne about ELO, The Beatles and The Traveling Wilburys was a major thrill. Hear all five encore sessions below.
Micky Clement/Courtesy of the artist
Benjamin Clementine
Song: Benjamin Clementine on World Cafe
British artist Benjamin Clementine showcases his Mercury Prize winning debut album, At Least for Now, in this encore edition of World Cafe.
Flamin' Groovies
Song: Flamin' Groovies on World Cafe
The Flamin' Groovies play a live set that includes their best-known song, "Shake Some Action," in this encore edition of World Cafe.
Darlingside
Song: Darlingside on World Cafe
Strings and vocal harmonies drive Darlingside's gorgeous album Birds Say. Hear the band in this encore edition of World Cafe.
The Jayhawks
Song: The Jayhawks on World Cafe
Hear a live performance from The Jayhawks featuring songs from their forthcoming album, Paging Mr. Proust.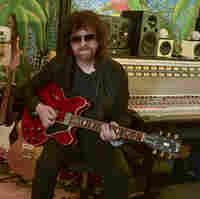 Rob Shanahan/Courtesy of the artist
Jeff Lynne's ELO
Song: Jeff Lynne's ELO on World Cafe
Jeff Lynne's ELO released its first record in 14 years, Alone in the Universe, in November. This conversation with Lynne concludes "Encore Week" on World Cafe.