For Groundhog Day, Hear Public Radio's Records On Repeat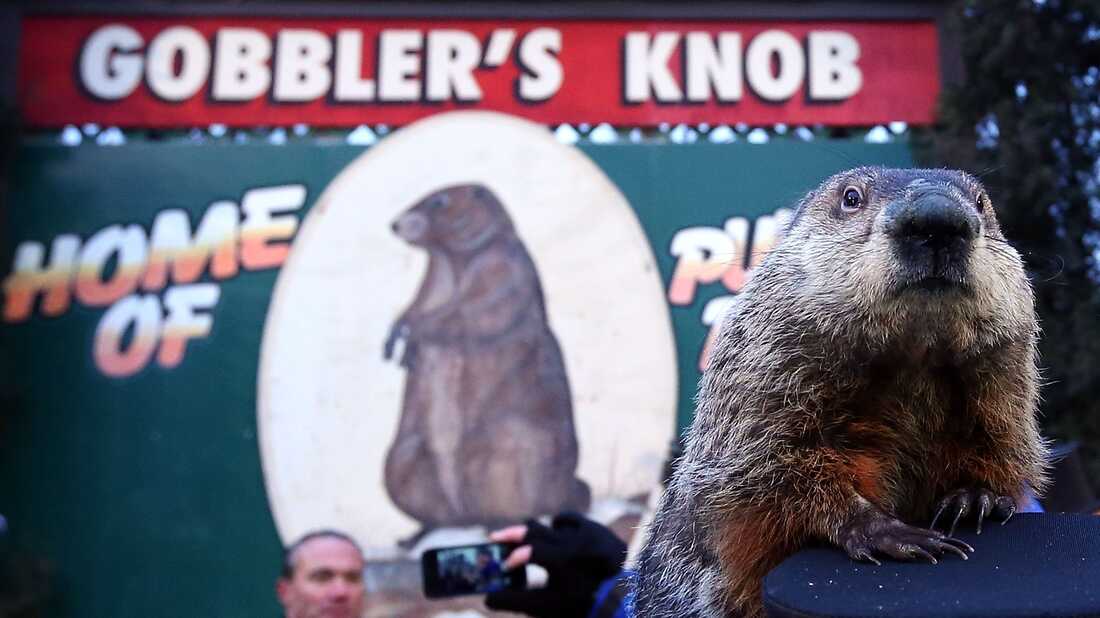 When Phil Connors, Bill Murray's character in Groundhog Day, wakes up at 6 a.m. to an alarm clock playing Sonny and Cher's "I Got You Babe," it sounds like a lovely and chipper musical start to a regular day. That is, until — spoiler alert — Connors gets stuck in a time loop that forces him to relive that day over and over and over again, and therefore start the morning listening to Sonny and Cher. Every. Single. Day.
In honor of Groundhog Day, we figured we'd ask: If you had to wake up and relive the same record every day, over and over, for the rest of your life, what would it be? Here are what some of your public-radio pals wouldn't mind hearing on loop for all time.
Public Radio's Records For Groundhog Day
David Bowie, 'Young Americans'

Which album could I relive every day? The answer came to me fast: David Bowie's Young Americans. His 1975 ode to American funk and soul, it arrived at the dawn of a whole new scene in music. There are only eight songs here over 40 minutes, but it has a wide enough emotional spectrum to stand the test of time — from feel-good funk and dance tunes to a reflective cover of "Across the Universe." Young Americans brought Bowie together with John Lennon at Electric Lady Studios, was the first place we heard the voice of Luther Vandross, gave Bowie his first No. 1 song in the States and landed him on Soul Train. So if I must be trapped in time with one album, let it be one that has grown through the years alongside me. It stands up to the wide range of frames of mind and mood I've asked of it. I'd happily relive it day after day and never tire of it, even if I don't get to end up with Andie MacDowell.

—Rita Houston, Program Director, WFUV

T. Rex, 'Electric Warrior'

So, first of all, the idea of only listening to one album for the rest of my life scares me to death. Many years ago, I was with about seven other people on a bus from Istanbul, Turkey, to Den Haag in the Netherlands. We only had one cassette with us: Dire Straits' Making Movies, which was played endlessly throughout the two-day trip. It took me years to be able to listen to that album again. That said, if I'm playing along, I would have to pick the T.Rex album Electric Warrior. I was a 13-year-old in England when it was released, and it was the first album that I came of age with. Up until then, I'd never really personally identified with an artist or their music. But Marc Bolan spoke to me about girls and sexual ambiguity, sang about wizards and unicorns and wrapped it all up in perfect, shimmering pop-rock. It's an album that changed my life and pushed me into adolescence and all the possibilities that came with it. If I could only listen to one album from here on out, I'd choose the one that made me believe that anything was possible.

—Nic Harcourt, Morning Music Mix, KCSN

Jeff Buckley, 'Grace'

If I had to wake up to the same record every day over and over for the rest of my life, it would be Jeff Buckley's Grace. "Mojo Pin" gently rouses you from sleep as it fades up and into the apropos lyric, "I'm lying in my bed / The blanket is warm." The building intensity of this song should make for a smooth transition from dreams to consciousness, but if you're extra groggy, the galloping guitars at 3:45 (and again a minute later) serve as a nice substitution for jarring alarm clocks. Each morning, you'd be "born again from the rhythm," with Buckley's angelic voice laying the groundwork for a day that flows as easily as his melodies do from track to track on this perfectly sequenced album.

—Kristen Kurtis, Morning Show Host, WXPN

Haim, 'Days Are Gone'

Hands down, my Groundhog Day record would be Days Are Gone, the 2013 debut album from Haim. One time, for my birthday, a friend gave me a Velvet Underground vinyl LP, which I was glad to receive. Literally one minute later, another friend gave me Days Are Gone on vinyl — and I lost my mind with happiness. The fresh take on '80s pop, contemporary R&B and classic '70s rock hit nearly every sweet spot for me. Frontwoman Danielle Haim has one of the best pop sensibilities I've ever seen or heard, and these songs elicit insane dance moves from me that I did not think were possible. I wouldn't get sick of it because this music makes me feel awesome and powerful. Who doesn't want to feel that way every day?

—Cindy Howes, Morning Mix Host and Producer, WYEP

A Tribe Called Quest, 'Midnight Marauders'

In 1993, A Tribe Called Quest released its third album, Midnight Marauders. While hip-hop culture had been incubating in New York since the late '60s, part of the country was hearing its musical manifestation for the first time. Hip-hop's creators were in a constant struggle with mainstream America to be seen as a legitimate artists. (Oh, the irony.) ATCQ sampled Jack Wilkins, Weldon Irvine, Ramsey Lewis, Ronnie Foster and other musicians who contributed to America's cultural identity, making it difficult not to acknowledge the new genre's artistry. Tribe masterfully combined jazz, funk, rock and blues to create a soulful boom-bap aesthetic that would typify the golden era of hip-hop. The album introduced sounds that were alien to me and struggles I hadn't known about. Through the years, Midnight Marauders has made its way from my Walkman to my portable CD player to my iPod. The music is still as fresh as it was in 1993 and the subject matter no less significant.

—Jesse Menendez, Vocalo Host and Producer, WBEZ

Miles Davis, 'In A Silent Way'

It took me a moment to put myself in the place of Bill Murray in Groundhog Day. This is not a set of "desert island discs" — this is one album that you have to wake up to every day until the great screenwriter in the sky changes the plot. So I quickly flipped from thinking about my favorite album to identifying one with staying power and depth, one that would fend off boredom and take at least a month's worth of plays to fully understand. My pick: Miles Davis' 1969 initial exploration into electric music, In A Silent Way. It features two side-long pieces recorded in one day and essentially created out of free-form playing through the editing of Teo Macero. Among the large cast of extraordinary players are Joe Zawinul, Herbie Hancock and Chick Corea on keys and John McLaughlin (whom Davis had met the night before the session) on guitar. My initial experience with the album was in a van filled with musicians and instruments cresting the 11,013-foot Eisenhower Pass in the Rockies in a snowstorm. That was a once-in-a-lifetime moment, but I'm betting In A Silent Way holds up to the everyday.

—David Dye, Host, World Cafe

My Morning Jacket, 'Z'

There are two things I love about My Morning Jacket and this album. First, the band's amazing musicianship — I could listen to just the instrumental parts on that record, on repeat, forever. "Lay Low" is a particularly bright gem and one of my all-time favorite guitar jams. Second, the vocals. Jim James has one of my favorite voices. He sings with such feeling; you feel his pain, his struggle, his fragility and joy. There are songs for all moods on Z. Contemplative songs ("Dondante" and "It Beats For You"), bouncy songs ("Off The Record") and body-moving dance songs ("Anytime"). There is one really weird song, too: "Into The Woods," which has a super-creepy carnival vibe that can actually be quite unsettling. The first line is "A kitten on fire / A baby in a blender." But it's so disturbing that it's funny, in a way, and sometimes, you just want that kind of humor. Many of the songs from Z have becomes staples of MMJ's phenomenal live show, so I think it's fair to say that the album is a fan fave. It is for this fangirl, anyway.

—Alisa Ali, Evening Host, WFUV

Donovan, 'Barabajagal'

If I'm going to wake up to one record on repeat every day for the rest of my life, my biggest consideration is the mood it puts me in. I want to be able to go through the gamut of emotions, yet still come out with serotonin on top. So I'm going to take a deep breath and take the plunge into the super-strange, mostly hopeful and often hilarious moods that Donovan evokes on Barabajagal. From the triumphant insanity of "Atlantis" to the quiet affection of "To Susan On The West Coast Waiting" to the skippy and sunny (if totally ridiculous) affirmational "I Love My Shirt" to the circular, hippy-dippy joy of "Happiness Runs" to the surprisingly sexy title track, this record is where I want to be. I took Barabajagal on a daily-listening test run through Kingston, Ontario, in the winter of 2004 during my first year of studies at Queen's University. On any gray day, it was a brilliant, uplifting companion. And although "Riki Tiki Tavi" is not on this Donovan record, I imagine this lover of all living things would gladly make space among the mongooses and snakes for a little groundhog.

—Talia Schlanger, Contributing Host, World Cafe