Recipes: 'Mediterranean Fresh'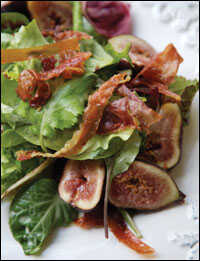 Back to Main Story
Get more recommendations from T. Susan Chang.
These recipes appear in Mediterranean Fresh by Joyce Goldstein and Dan Barber, W. W. Norton, 2008.
Figs, Greens, and Prosciutto with Gorgonzola Cream Dressing

Many years ago, Richard Olney in his seminal book, Simple French Cooking, had a recipe for an appetizer of figs cut almost in quarters, topped with fine strips of prosciutto, and drizzled with a mint-infused lemon cream. I still prepare this wonderful dish to serve along with a glass of Prosecco. I love the classic combination of figs and prosciutto and have noticed that some young chefs in Italy are using crunchy fried prosciutto to dress salad greens. This recipe takes the fig and prosciutto duo more into the salad realm by adding greens and turning the cheese into a Gorgonzola cream dressing. You can serve the strips of prosciutto at room temperature or briefly warm them in olive oil until they are slightly crunchy.

6 handfuls of salad greens, including arugula, radicchio, and a few mint leaves, torn into bite-sized pieces (about 1/2 pound)
6 ripe figs, cut in quarters
Sea salt and freshly ground black pepper
About 1 cup Gorgonzola cream dressing, not too thick (see below)
3 to 4 tablespoons extra-virgin olive oil
4 ounces sliced prosciutto, cut into strips about 1 1/2 inches long and 1/4 inch wide

Place the salad greens and the figs in a large bowl. Season to taste with salt and pepper and toss with enough dressing to coat.

If you want to cook the prosciutto, warm the olive oil in a small sauté pan, over medium-high heat. Add the prosciutto strips and sauté, stirring to ensure even cooking, until they are a bit crunchy, 3 to 5 minutes. Using a slotted spoon, transfer the prosciutto to the salad. Or toss the salad greens and figs with the dressing and top with strips of uncooked prosciutto. Serve immediately.

Gorgonzola Cream Dressing
1/2 cup mild olive oil
1/4 cup finely crumbled Gorgonzola dolce or Roquefort cheese
1/4 cup heavy cream
2 tablespoons fresh lemon juice, or to taste
Pinch of freshly around black pepper
Sea salt (optional)

Place all the ingredients except the salt in a food processor or blender and pulse quickly just until combined. Do not overprocess. Taste and add salt if needed. If the dressing is too thick, thin it with water.
Grilled Squid Stuffed with Rice and Shrimp

Now that squid are known as calamari, it's much easier to sell them to the American public. Granted, these are not battered and fried, but they are truly delicious. All of the Mediterranean countries have recipes for stuffed squid. Bread is usually used in Italy and France, and rice is the basis of the filling in Greece and Turkey.

There is no middle ground when cooking squid. You either cook them in a matter of moments or you cook them a long time; otherwise they will be tough and rubbery. For this dish you want to grill them quickly. Allow 2 or 3 small squid per person, and if you like, serve them on a bed of horta. Avoid large squid, because they will not be really tender.

1 1/2 pounds small to medium squid
5 tablespoons olive oil
1/2 pound small shrimp, shelled, deveined, and coarsely chopped
1/2 cup diced yellow onion
1 teaspoon minced garlic
112 cup long-grain rice, such as basmati
1 cup hot water
1/8 teaspoon crushed saffron filaments steeped in 2 tablespoons white wine
2 tablespoons toasted pine nuts
2 or 3 tablespoons currants, plumped in hot water (optional)
Freshly grated zest of 1 large lemon
2 tablespoons chopped fresh flat-leaf parsley
I to 2 tablespoons chopped fresh dill
Sea salt and freshly ground black pepper
1/2 cup caper and garlic citrus dressing (see below)

To clean the squid, pull the heads from the bodies. Cut off the tentacles just above the eyes, and set aside. Push out the little round hard piece (the "beak") in the middle of the tentacles and discard. With a flat side of a knife, push down on the body of the squid to push out the squooshy innards. Discard them and then reach into the cavity, pull out the inner bone, and discard it. Scrape away the skin and wash the bodies well. Pat them dry. Chop the tentacles.

Warm 2 tablespoons olive oil in a medium saute pan over moderate heat.
Add the tentacles and chopped shrimp and saute for 1 to 2 minutes. Remove from the pan and set aside.

Add 2 more tablespoons olive oil to the pan and sauté the onion until tender, about 8 minutes. Add the garlic and sauté for 1 minute. Add the rice, water, and saffron infusion, stir well, and bring to a boil. Reduce the heat to low and cook, covered, until the rice has absorbed all the liquids, about 20 minutes. Stir in the shrimp and tentacles, pine nuts, currants if using, lemon zest, parsley, and dill. Season with salt and pepper to taste. Cool the rice filling.

When the filling is cool, stuff it into the squid bodies and skewer them closed with toothpicks. You can do this a few hours before serving them and keep them in the refrigerator.

To serve, preheat a broiler or gas grill or make a fire in the charcoal grill. Thread the stuffed squid onto soaked wooden skewers.

Brush them with the remaining 1 tablespoon olive oil, sprinkle with salt and pepper, and grill quickly, until they turn white, a few minutes on each side. Place on a platter and drizzle with caper citrus dressing. Serve immediately.

Caper and Garlic Citrus Dressing
4 tablespoons salt-packed capers, rinsed and coarsely chopped
1/4 cup fresh lemon juice
1 to 2 teaspoons finely minced garlic
3/4 cup extra-virgin olive oil, plus more if needed
Freshly ground black pepper
Sea salt, if needed

Combine the capers, lemon juice, and garlic in a bowl and whisk in the olive oil. Add pepper and salt to taste (remember that capers are salty).

Reprinted from Mediterranean Fresh: A Compendium of One Plate Salad Meals and Mix-and-Match Dressings by Joyce Goldstein. Copyright (c) 2008 by Joyce Goldstein. Photographs copyright (c) 2008 by Andre Baranowski. With permission of the publisher, W.W Norton & Company, Inc.