Hunters Up Their Game With Camouflaged Trucks
Hunters Up Their Game With Camouflaged Trucks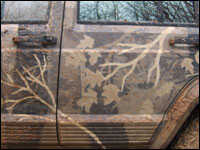 Gary Linam likes to hunt in style. When he and his hunting buddy Mike Self venture into the Dogwood Flats outside of Huntsville, Ala., they drive a four-wheel drive Jeep decked out with a DVD player, Sirius XM radio, backup cameras and a GPS system. Linam dresses head to toe in camouflage.
"We're all about the camo," Linam says. "We've got the camo seat covers, steering wheel cover, but the cool part about it is the paint job on the outside."
Linam's Jeep is a work of art — to hunters, anyway — thanks to a local artist.
"We've worked out with Miss Lou Ann Lanier where she paints up our camo vehicles for us so we blend in with the habitat," Linam explains.
Lanier is a faux finish artist and instructor in Madison, Ala. She's following a tradition that's thousands of years old, in which artists use thin layers of paints, glazes and plaster to create tricks of the eye. For her clientele, Lanier can make almost any surface look like marble, leather and metal.
Ten years ago, the self-taught artist was running a bustling business when she got a strange request from her husband: He wanted her to camouflage his Jeep for hunting. Other camouflaging techniques, such as decals, are expensive — not to mention shiny, which can scare animals off. Lanier's husband wanted something special for duck season. At first she, balked at the idea of camouflage.
"How ugly," she says. "I didn't want to paint something that was ugly."
But she took one of his camouflage shirts with a pattern she liked and started experimenting with color, technique and paint. The Jeep was a hit. To advertise, Lanier put up fliers in local hunting supply stores. Now, she has painted boats, trucks, Jeeps — even an amphibious six-wheeler. The last canoe she camouflaged was for a local man who hunts ducks in Arkansas.
"He brought back tree bark — big pieces of tree bark from Arkansas — so I could use those to match the colors for this particular canoe, which would be used only in Arkansas," Lanier says.
Lanier carefully paints any surface animals might notice: insides of doors, bumpers and roofs.
"You have to look at it from the duck's point of view as well as the hunter's point of view," she says. "So the roofs of all the vehicles have to be painted, and [they need] to look like the top of the trees when they're flying over, so the vehicles don't scare them away."
Customers like Gary Linam come back for Lanier's camo painting again and again.
"We probably don't kill a lot more animals with the camo vehicles, but we sure do feel a lot better while we're doing it," Linam says. "We feel the part a whole lot more. It's like you women are with your shoes. You have to have the right shoe for the right environment, so you can feel good about what you're doing. It's the same thing about us hunters."
For Linam, being in these woods allows his worries to fall away. At least some of that comes from the surprising beauty of the paint job on his vehicle.