Cardinals' Fitzgerald 'Eyes' Super Bowl Victory
Cardinals' Fitzgerald 'Eyes' Super Bowl Victory
When the Pittsburgh Steelers and Arizona Cardinals meet Sunday in the Super Bowl, one player to watch is Cardinals wide receiver Larry Fitzgerald. His optometrist grandfather gave Fitzgerald unique vision training that has helped him on the football field.
RENEE MONTAGNE, host:
In Sunday's Super Bowl, many eyes will be on Arizona Cardinals wide receiver Larry Fitzgerald Jr. And that's appropriate, in a way, because as a boy, Fitzgerald received vision training from his grandfather, an optometrist. That training helped him in ways not apparent to the untrained eye. NPR's Mike Pesca explains.
MIKE PESCA: In football, receivers are usually evaluated on their hands and their feet: how well they can catch the ball, and how well they can run after they catch it. But ask someone who's ever made a reception with a 210-pound safety draped over him, and you'll get an insight as to what it takes to catch a pass in the NFL. Former wide receiver Cris Collinsworth has been there.
Mr. CRIS COLLINSWORTH (Former Wide Receiver, Cincinnati Bengals; NBC Sportscaster): To be open in the NFL, you're open from the distance that you and I are apart here, about a yard. I mean, that's open. And so, in order for them to get that ball in there, they've got to throw it well before you're making your break. So, the ability to spin your head and see something - whether it's a helmet, a fist or a football flying at you - you have to be able to react to it that quickly. And if he's a fraction of a second faster than everybody else - would explains some things.
PESCA: Reaction time explains some of Larry Fitzgerald's edge, but it goes a lot deeper than that. When Fitzgerald was a boy of about 8, he would visit his mother's family in Chicago. There, his grandfather, Dr. Robert Johnson, ran one of the only optometry clinics in the inner city.
Dr. ROBERT JOHNSON (Optometrist, Chicago, Illinois): We have to be able to measure what goes into the eye, what goes back with the brain - see, we actually see with our brain. Our vision is with our brain. How well does a child perceive his world? And can he get meaning out of what he or she sees?
PESCA: In fact, Fitzgerald's early training was not meant to increase his athletic ability; it was to help him in the classroom. Everyone knows the old story about the boy who was falling behind in school because he couldn't see the blackboard. Dr. Johnson believes that a more complex version of that story often hinders learning. So, his grandson and other children that he treated were given exercises to increase their ability to recognize patterns and draw meaning from visual stimuli. Those exercises also turned out to be really helpful on the football field. Fitzgerald still credits those 15-year-old drills.
Mr. LARRY D. FITZGERALD JR. (Wide Receiver, Arizona Cardinals): He had me covering each eye, you know, with a patch on my eye. And I would have to catch objects, you know, with the opposite hand. I think it was definitely the foundation of good, strong hand-eye coordination.
PESCA: Daniel Laby, an ophthalmologist who's worked with professional sports teams, says the particular drill that Fitzgerald was just describing may have aided in developing what's known as contrast sensitivity.
Dr. DANIEL LABY (Ophthalmologist, Canton, Massachusetts): Think about trying to catch a football against all those fans in all different colors, you've got to have good contrast to pick that out of the background.
PESCA: Fitzgerald's excellent peripheral vision, pattern recognition and quick processing allow him to visualize his next move, because he actually takes his eye off the ball. Sorry, peewee football coaches everywhere, but it's true. It's one of his many assets, but a vital one, according to Shannon Sharpe, who retired as the greatest pass-catching tight end the game has ever known. In Sharpe's eyes, Fitzgerald is the best pass catcher in the NFL today.
Mr. SHANNON SHARPE (Former Tight End, Denver Broncos): The thing is when you run, your eyes bounce, and somehow he's able to find a way to stabilize his eyes. His eyes is what he catches the football with. He make plays that guys will love to have, he make them look so routine.
PESCA: What actually has become routine are the drills that Fitzgerald's grandfather developed. Today, aspiring athletes, even those with 20/20 vision, are given a regiment of eye exercises. So, in 15 years, there may well be a generation of wide receivers who can see as well as Larry Fitzgerald. Of course, there will also be a generation of defensive backs to thwart their efforts. Mike Pesca, NPR News, Tampa, Florida.
NPR transcripts are created on a rush deadline by an NPR contractor. This text may not be in its final form and may be updated or revised in the future. Accuracy and availability may vary. The authoritative record of NPR's programming is the audio record.
Will The Super Bowl Stay 'Super'?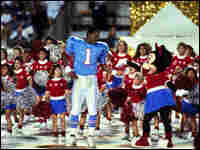 Al Messerschmidt/Getty Images
Live Chat:
Everything But The Game
Monday, Feb. 2, at 11 A.M. Eastern
on Monkey See

Bob Garfield, Ad Age columnist and co-host of On the Media, joins Monkey See blogger Linda Holmes for some Monday Morning pop-culture quarterbacking. The ads, the show, the malfunctions — chime in as we take apart one of the year's biggest media weekends.
Will Super Bowl XLIII be the end of the game as we know it?
Not as far-fetched a question as you might think. There is something so last century about the extreme excess that is the Super Bowl. At a time when many Americans have to choose between groceries and gasoline, the idea of paying a grown man $78,000 for playing on the winning football team (in addition to the millions he is already hauling in) makes the executives of Bank of America look like pikers.
Sure, the NFL's premier game — played in Tampa this year between the Arizona Cardinals and the Pittsburgh Steelers — is sold out. Sure, millions of people will be watching the hours-long sporting contest on Sunday. And sure, companies who advertised during past Super Bowls have reported an increase in customer awareness.
But here and there are signs of decay and stress in the mega-event's infrastructure. Poke around a little and you find telltale clues that the Super Bowl may not stay super forever.
The auditing firm PricewaterhouseCoopers issued a Super Bowl outlook in January predicting that the ailing economy will result in "fewer visitors and media, a shorter average length of stay per visitor, and less spending in the hospitality and related industries throughout the Tampa Bay area."
A spokesman for the company added, "Based on the number of this year's Super Bowl-related events which have either been canceled or where cutbacks have been announced, it is clear that businesses have found it difficult to ignore their more immediate operating uncertainties and investor demands — even at the expense of one of America's most popular events."
Other signs of the event's troubles abound: Usually free-spending major advertisers-- such as U.S. automakers and financial institutions — are in dire financial straits, sports-marketing and sports-sponsorship growth is virtually flat and the NFL itself is laying off staff members.
And if you need more evidence, Playboy and Sports Illustrated have canceled their Super Bowl soirees this year. Maxim magazine has trimmed back its party plans. And the Tampa Tribune is reporting that corporate jet traffic may be less than expected.
"No one is immune from the economy," said Reid Sigmon, the Super Bowl host committee's executive director, "not [even] the NFL."
Trouble In Adland
On TV, the Super Bowl not only pits the season's two best teams against each other; it traditionally showcases the latest, most creative national advertising campaigns. Over the years, Super Bowl advertising has taken on a life of its own, spawning theories and books and TV specials.
The NFL is guaranteed huge bucks — some $3.7 billion a year — from the networks through 2010. But the future is unclear as media become more fractured and fragmented by new developments such as cable TV and the Internet. Will the money still be there in the strange new media landscape?
The Super Bowl is perhaps the last bastion of massiveness. Nowhere else can a company get its message out to so many millions of people in 30 seconds at the bargain price of $3 million — the going rate for this year's game.
Nevertheless, this year there is a definite chill in the advertising air. Noticeably absent from the latest list of Super Bowl sponsors: the omnipresent FedEx and, even more significant, any U.S. automaker. Not even GM, whose recent earnings have sunk — like a rock.
Are these visual cues that the Super Bowl has been affected by a flailing economy? "Absolutely," says Brian Steinberg, who writes about TV marketing for Ad Age. He points out that NBC, the network that is showing the Super Bowl this year, has reportedly had some difficulty selling all of its ad slots.
It's also worth noting, Steinberg adds, "There aren't a lot of financial advertisers or fast-food advertisers on the list."
And to take the whole idea of excess to the extreme, Ad Age is reporting that a Miller High Life ad during the Super Bowl will make fun of Anheuser-Busch's extravagant Super Bowl spending.
Market Malaise
Across the board, professional sports franchises are feeling the financial pinch. Major League Baseball attendance was down in 2008. The LPGA schedule for 2009 includes three fewer events than last year. The Arena Football League canceled its 2009 season because of money troubles. Certain NASCAR teams have scaled back. The NBA front office has announced layoffs. The NHL is in a hiring freeze.
In the way that people speak of "peak oil," is it possible we have seen "peak pro sports"?
Even the almighty NFL is being thrown for a loss. Individual teams are paring payrolls. The Cleveland Browns, Washington Redskins and other front offices have laid off staff members. Forbes.com reports that the snakebit Detroit Lions franchise is losing money.
The Forbes Web site also reports that overall attendance at pro football games was down in 2008, compared with the year before. And most of those tickets were bought before the economy went south. "We're concerned about next year's attendance," NFL spokesman Brian McCarthy told Forbes.com.
The league's brass says that spring ticket sales will set the future course for the NFL. And officials are expecting that sales could be lower than last year. Commissioner Roger Goodell announced in December that the NFL was laying off 150 employees, more than 10 percent of its staff, because of anticipated loss of revenue.
"These are difficult and painful steps," Goodell wrote in a memo. "But they are necessary in the current economic environment. I would like to be able to report that we are immune to the troubles around us, but we are not."
The Game's The Thing
On Sunday, more than 70,000 people will pack Raymond James Stadium, and gazillions of others will be watching around the world. It's hard to believe that such a spectacle will not go on year after year.
But some longtime observers question the future of such extravagance. "I believe that continued national and global economic pressures on companies and travelers would impact next year's game in the same negative way that it would impact other spending throughout the travel and entertainment industry," says Robert Canton, director of PricewaterhouseCoopers' Hospitality and Leisure practice.
But, Canton adds, an interesting story line — such as the New England Patriots' quest for a perfect season, which ended with a loss in last year's game, or when two major-market teams meet — can boost interest in the event and "potentially offset some of the negative impact of a down economy."
Matt Gaventa, former editor of the SportsMediaWatch Web site, agrees. In 2006 he wrote about the necessity of a strong, dramatic narrative for a Super Bowl to be successful. Eventually, he says, hype and hoopla just don't cut it.
"How much more excess could there be?" he asks today. "How much more could be crammed in? What you see are iterations of the same five story lines — in attempts to build up that hype to the same level. Sometimes that works, and sometimes you have the Cardinals and nobody cares."
These days, he says, "the country seems more interested in the political arena" than in a professional sports contest.
But in sports bars all across the country, fans will be debating the game and asking hypothetical questions. Suppose in the future there is not an interesting story line for the Super Bowl? Suppose small-market teams, the kind that don't naturally draw large followings, play each other? What if the economy continues its downward spiral? And large corporations cannot afford to spend $3 million for a commercial spot? And ticket sales fall? And players are forced to take pay cuts? And they strike instead of playing? Or fans get fed up with the outsize salaries and opulent lifestyles of the players?
Will the Super Bowl morph back into a sparer version, like in the early days when college marching bands — instead of Bruce Springsteen — headlined the half-time show?
Such questions are outrageous and sensational, but in these harsh economic times, we have seen more than one apparently wildly successful enterprise fail spectacularly.
Besides, what is the Super Bowl without hyperbole?
The Associated Press contributed to this report.
Related NPR Stories