Doris McGillan's Ethnic Dolls
African Fabrics Adorn Artist's Hand-Crafted Creations
Doris McGillan's Ethnic Dolls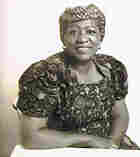 Artist Doris McGillan gives new meaning to the phrase "fabric of society." Drawn to the intimate stories told in the clothes of African cultures, McGillan uses authentic material to create dolls that portray the African -- and African-American -- experience.
McGillan talks more about her creations in a visit to The Tavis Smiley Show.
Now based in Philadelphia, McGillan once traveled the world as a missionary, spending time in the Congo, Kenya, Ghana, Senegal and Haiti. She found herself captivated by African fabrics.
The first dolls were made for a church fundraiser. But after a local gallery placed an order, Heritage Designs Ethnic Dolls was born as a business.
Each of the foot-tall figures is wrapped in authentic African cloth and coated with a special solution to create a satin-like finish. McGillan signs each doll and gives it a certificate of authenticity.
McGillan says she tries for an accurate reflection of the cultures the dolls represent. "The Kente" portrays a village chief from Ghana and draws its name from the hand-woven cotton fabric so strongly identified with that nation.
The African-American dolls tend to have historical themes. Some are based on well-known figures, such as Harriet Tubman, who helped lead slaves to freedom through the Underground Railroad. But there's also "The Cotton Picker," who drags a bag of cotton with her baby on top -- an emblem of countless African-American women who suffered under slavery.
McGillan's dolls have won numerous awards and can be found in the homes of Hillary Rodham Clinton, singer Anita Baker and many others.