NTSB Begins Hearings Into Medevac Crashes
NTSB Begins Hearings Into Medevac Crashes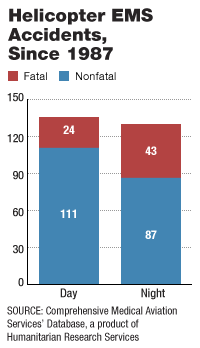 Emergency medical helicopters are supposed to save lives, but last year, a record number of people died aboard the aircraft. Starting Tuesday, the National Transportation Safety Board begins hearings in Washington to try to find out what's happening, but the answers might not be simple.
Twenty-eight people died in seven separate fatal EMS crashes last year. That's twice as many deaths as any other year. The accidents happened in good weather and bad, during the day and at night. Pilots flew into obstacles, lost control in bad weather and two helicopters collided in midair.
Gary Sizemore, with the National EMS Pilots Association, says the industry is frustrated that emergency helicopters keep crashing and killing the people they're trying to save.
"I think we're going to take a little bit harder strides, a little bigger steps to make sure we're promoting safety within the industry," Sizemore says. "We're going to have to show we're working hard to prevent those accidents from happening."
But how to do that, Sizemore admits, is not clear.
"There's not usually a single cause. There's not usually something simple that you can point to. And once you do kind of figure out what's going on, the solution to that problem is not always an easy fix," he says.
The government has been reluctant to mandate safety regulations, and the industry has been slow to pay for improvements. Most of the estimated 850 EMS helicopters in the U.S. are operated privately. It's a lucrative business: A typical flight costs $10,000. Last year, the industry flew more than 400,000 patients — double what it did at the start of the decade.
Aviation researcher and former EMS pilot Patrick Veillette says a proliferation of helicopters and pressure to take missions have caused many crashes.
"Why, in a modern democracy, have we been unable to proactively address these? I think it would have to come down to the bottom line — the dollar," Veillette says.
These flights are inherently more dangerous than commercial aviation. Pilots have little time to prepare for missions, and they must land in areas not designed for helicopters, dodging trees, power lines and buildings. In fact, over the past two decades more than 200 EMS helicopters have crashed, killing at least 150 people.
Unlike other segments of commercial aviation, the EMS helicopter industry is not required to report the number of aircraft, patients flown or flight hours. So, federal officials cannot say with certainty whether there are safety problems. But the EMS accident rate is much higher than commercial aviation.
"We can do it better. We should do it better, and we need to put in place protocols that will make it safer so we don't have a loss of life trying to save life," says Rep. John Mica (R-FL), a member of the House Transportation Committee.
Among the safety provisions under consideration: putting two pilots in each helicopter who have access to night vision goggles, and requiring aircraft to have equipment that warns the crew about nearby obstacles.
As the National Transportation Safety Board opens hearings this week, board member Robert Sumwalt says last year's fatal accidents may finally lead to changes.
"Whatever is being done out there now is not working successfully," Sumwalt says. "So we want to be innovative. We want to look for ways that the industry can improve the safety record."
The NTSB has already added EMS helicopter safety to its most wanted list of transportation improvements for 2009, but there will be no quick or easy fixes. Once the safety board crafts new safety recommendations, it will forward them to the Federal Aviation Administration.
But in the past, the FAA hasn't gone along with all NTSB findings, or has been slow to enact changes.